[et_pb_section admin_label="section"][et_pb_row admin_label="Row"][et_pb_column type="4_4″][et_pb_text admin_label="Text" background_layout="light" text_orientation="left" use_border_color="off" border_color="#ffffff" border_style="solid"]
Learning isn't always exclusive to the classroom. Even at A&M. When you can mix your passion with on the job training, that is a good way to make a living.
Kayce Smith, originally from Arlington Texas, graduated from Texas A&M in 2012 with a Bachelor of Arts in Communication and a minor in Journalism. With aspirations of breaking into sports Smith did everything she could to get her hands dirty. Even though A&M did not have a broadcast journalism major at the time, Smith found ways to get hands-on experience in the industry through 12th Man Productions.
"I have been interested in broadcasting from the very beginning," Smith said. "My dad graduated in '76, I grew up going to games and developed an immediate interest in sports."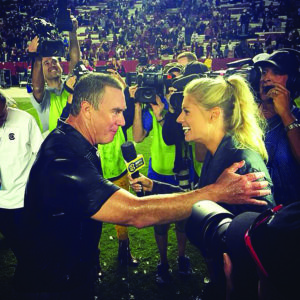 Smith's dream to work as a sideline reporter became reality soon after she graduated. In 2014, she began working for Fox Sports South as a sideline reporter for the Atlanta Hawks. Next was ESPN and SEC Network giving Smith the opportunity to cover collegiate sports as a sideline reporter for football, basketball and gymnastics.
That experience helped shape Smith and catapulted her to her newest adventure "The Kayce Smith Show." Based in College Station, she and her team hope to carry on the sports debate movement that is becoming popular among fans and football enthusiasts. Smith isn't one to shy away from sharing her opinions. No matter who is listening.
"One of the biggest challenges I faced, and still face, is having to prove that I'm here for more than just looks," Smith said. "Football is a man's world and I'm a young female inside it."
She has had to prove that though she never played football, she is quite knowledgeable about the game. Doing so, she has set an example for women in the male-dominated industry to express their views. She said that if this is what she is meant to do, she has to show she is prepared.
"Women have opinions but not the platforms yet to convey them; this show is about finding a way to make that happen."
Leaving the sideline wasn't an easy decision for Smith. That was the start of her sports broadcasting career. But Smith said that even though this show is one of the first of its kind, it has been amazing to see how much support there has been from the very beginning. She even had a national radio agreement in place before the first episode was ever launched.
"My favorite part of this transition is that I get to share my opinions. I loved being a sideline reporter and I believe that they are an important part of the broadcast, however sometimes people seem to be apathetic to that role. While the trend [in sports] is currently moving more towards polarizing opinions, I see the opportunity to add to that conversation in my personal career."
The Kayce Smith Show is about finding a way for women to voice their opinions in the field of sports. Smith says the industry needs this and she will make sure her team stays knowledgeable and prepared.
"This is a 100% female-hosted show; we're getting there in politics but not yet in sports. That's why we're trying to go where nobody's gone before."
The show is recorded in the TexAgs building and though the show is not featured locally yet, it is nationally available on SB Nation Radio and in major cities, including Houston, Dallas and Austin. It is also available on www.gridironnow.com and iTunes podcasts. You can also tune in LIVE on social media and see the magic happen with Kayce and her crew via Twitter/Periscope and Facebook Live.
[/et_pb_text][/et_pb_column][/et_pb_row][/et_pb_section]