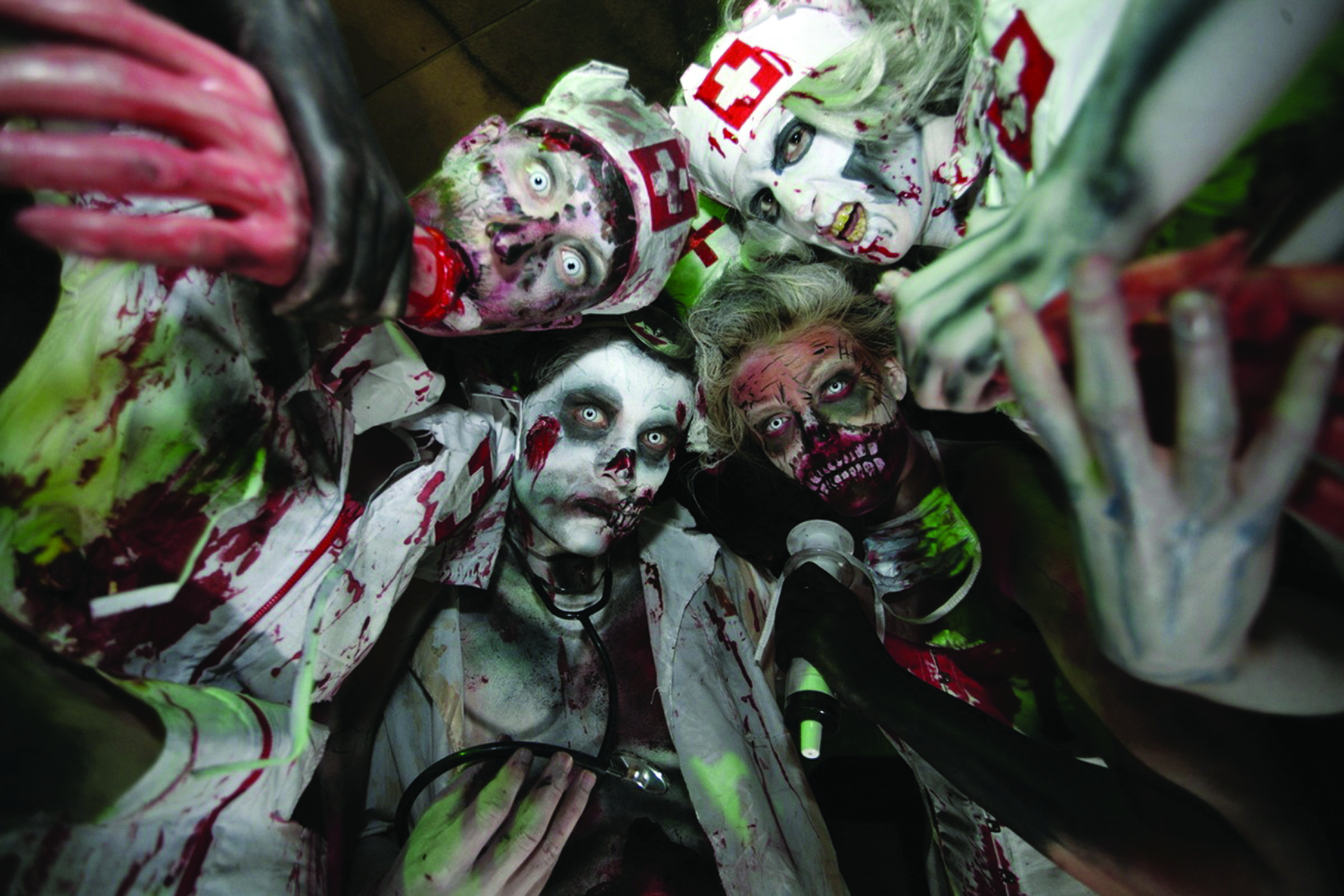 [et_pb_section admin_label="section"][et_pb_row admin_label="row"][et_pb_column type="4_4″][et_pb_text admin_label="Text" background_layout="light" text_orientation="left" use_border_color="off" border_color="#ffffff" border_style="solid"]
Returning to the Historic Downtown Bryan for the fourth year in a row, the Zombie Ball and Pub Crawl will take place on Saturday, October 22, 2016, from 7pm to 2am.
Put on by various businesses in the BCS area, the Zombie Ball and Pub Crawl is an event you do not want to miss! The evening includes venues in Historic Downtown Bryan, such as Downtown Uncorked, La Salle hotel, Murphy's Law, RX Pizza and Bar, Proudest Monkey, Revolution Cafe, and The Village Cafe. With a ticket, each bar will have $4 drink specials and activities to keep you going throughout the night. There will be face painting at Downtown Uncorked and The Village Café to add to your costume and a concert will also be held at Revolution.
Also at every bar will be a costume contest, and contestants from those contests will be able to qualify for the "Overall Winning Costume" contest that will be held at midnight in the alley on 26th St. To celebrate the crowning of the Overall Winning Costume, there will be a DJ Dance Party.
With the purchase of a ticket, you will receive a passport that will take you to each bar for a stamp in order to have a chance at winning the grand prize drawing.  The ticket also includes the drink specials, activities in each bar, access to the DJ Dance Party and costume contest, the concert at Revolution, and face painting. The ticket will also grant you $5 off of the entrance fee to the Fright Nights Haunted House at The Palace.
This will be the perfect evening to grab some friends, pick a costume theme together, and enjoy a night out enjoying the Texas October. You won't want to miss this evening of socializing and one-upping other people's costumes. If anything, the people-watching will be worth the trip to Downtown Bryan to see all the costumes BCS residences have on display.
The Zombie Ball and Pub Crawl will take place in Downtown Bryan on Saturday, October 22 from 7pm to 2am. Tickets are $5 and can be purchased through the Zombie Ball and Pub Crawl Facebook event page or online.
[/et_pb_text][/et_pb_column][/et_pb_row][/et_pb_section]