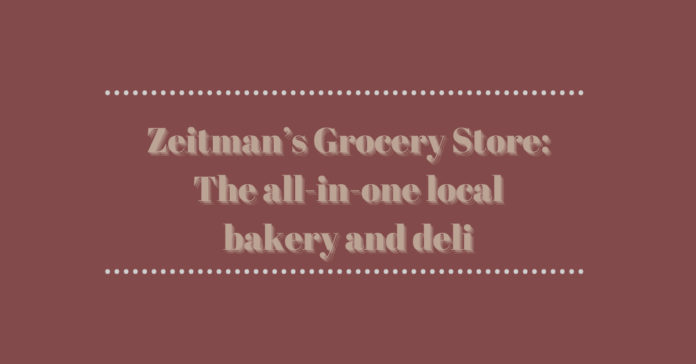 One store holds the heart of home-cooked meals, shopping local and fresh baked bread, and BCS is in luck, because you can find this all-in-one superette in Downtown Bryan.
Zeitman's Grocery Store will cook up a delectable lunch for you and send you on your way with local ingredients to last you the rest of the week. Here you can run down those hard to find niche products, old school bakery and deli menus, and some of the best local products BCS has to offer.
Destination Bryan has chosen Zeitman's as their next featured legend because of their delicious made-from-scratch menu and homey atmosphere. Their menu will bring you back in time with choices that "remind you of your grandmother's cooking," equipped to fill the stomach and soul. Owner Blake Zeitman says the bakery and deli menus are inspired by his family's Jewish cooking he grew up making and his infatuation with all things Italy. So any meal you order will have been chosen and crafted with care.
"Our customers are our life blood, and we want them to know it," Zeitman says.
That's why hospitality, integrity, family, and locality are the cornerstones the store is built on. Their integrity lies in a high standard of quality at a reasonable price. As a family owned business, everyone who walks through the doors is either family or treated like family. They prioritize hospitality to hopefully serve customers for generations, Zeitman says. Finally, they prioritize working with other local businesses whenever they can.
"We believe the best way to steward the community is to keep money and jobs growing here in Brazos County and with other mom and pop businesses," Zeitman says.
They'll even keep things fresh for you by frequently adding new products to the shelves and new choices on the menu. If you visit during their exciting rush hours, you'll experience an atmosphere similar to East coast delis. If you visit during quieter hours, you'll feel like you're visiting that favorite friend who always has a fully-stocked pantry. Every time you visit, no matter what time of day, Zeitman's is committed to giving you a unique experience.
So stop on by their Downtown Bryan location at 220 N. Main, any time from 7 a.m.-7 p.m. Monday-Saturday. It'll be like coming home.