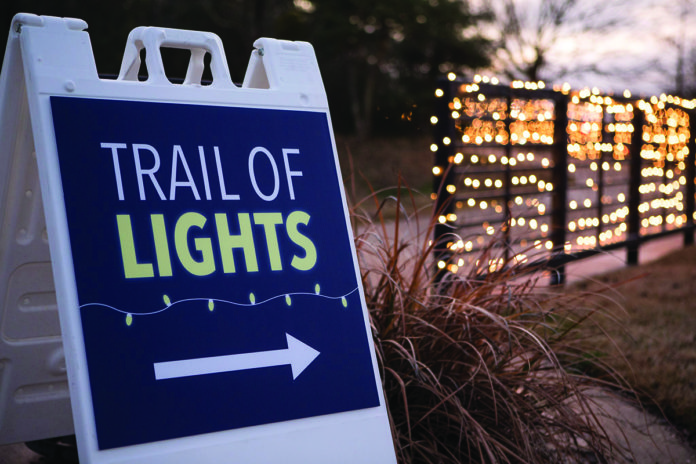 Looking for a unique way to spend Valentine's Day with family, friends, a significant other or maybe even your four-legged Valentine? Join Wolf Pen Creek Park for The Trail of Lights: Date Night, a free event hosted by College Station Parks and Recreation.
Beginning on Feb. 7 and extending through Feb. 16 from 6-10 p.m., friends, families, and lovebirds will have the chance to stroll through a trail adorned with twinkling lights along the upper trails of Wolf Pen Creek Park. The trail starts at the Holleman Drive entrance across from the USDA center, connects across the bridge and ends at the gazebo.
On Valentine's Day from 6-9 p.m., along with the Trail of Lights, Wolf Pen Creek Park will also offer a night filled with entertainment for everyone to enjoy. Food trucks, gift vendors, live music and a dance floor will help you set just the right mood for celebrating a romantic and fun-filled holiday. Guests are allowed to bring beverages into the park; however, glass containers are not permitted, and coolers must be 48 quarts or smaller.
Come out to Wolf Pen Creek Park for a Valentine's Day event you do not want to miss! The event is free for all ages, and pets are welcome! Parking can be located in the Wolf Pen Creek parking lot and along both sides of Colgate Drive.
For more information, please visit: http://bit.ly/37AEA4b.