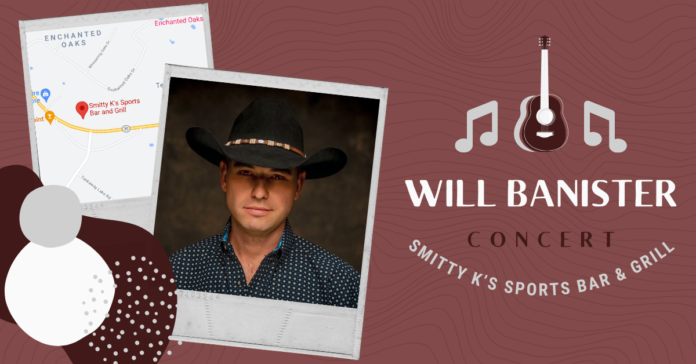 If you're a fan of classic country, sung in a deep baritone and backed up by just the right amount of fiddle and steel guitar, pull on your boots and get out to Smitty K's to hear Will Banister on May 1! The show starts at 8:00 p.m., but if you've ever been to Smitty K's, you'll know it's well worth getting there extra early to enjoy the excellent food and also to nab a great seat. This venue is definitely the one for you if you love shows that are up close and personal.
Banister grew up on country music, listening to George, Merle, and Hank as his dad's pickup traveled the dusty roads of New Mexico about 20 miles from the Texas border. Since his music truly reflects the best of country classic style, it was obviously time well spent.
These days, he's still on the road, this time performing, in Oklahoma, Kansas, New Mexico and even opened for Reba in the U.K. His latest work, the 11 song album "Everything Burns," released almost exactly a year ago, and was chosen March's album of the month for Country Music People Magazine in the U.K.
If that all sounds good, let's make it even better. Smitty K's got it going on, not only because it's Aggie owned and operated, but because there's 40 beers to choose from and 8 of them are on tap, you can build your own burger or indulge in chicken or turkey sandwiches or chicken fried steak, and if that's not enough, you can build your own mac and cheese, slathering on pulled pork, bacon or jalapeños, along with other great fixin's. 
Yep. Mac and cheese with jalapeños—a classic. Just like Will Banister's brand of country. Tickets are $15, and can be purchased here.