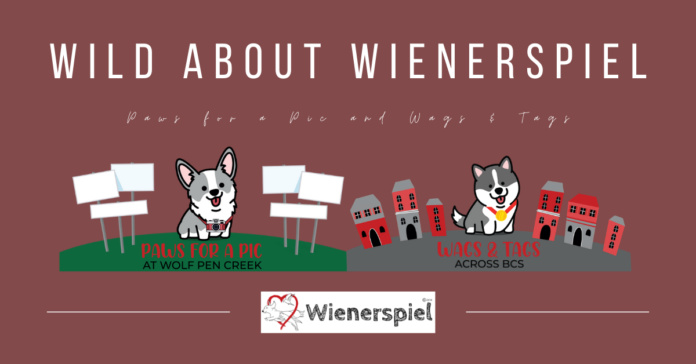 Right behind photos of the kids and grandkids, people love to show off photos of their pets. This fall, Wienerspiel is giving you an opportunity to do just that. In lieu of their usual annual wiener dog race, Wienerspiel is still finding ways to do good for the community and our animals by hosting two events, Paws for a Pic and Wags & Tags on Sunday, Oct. 25.
Getting involved in Paws for a Pic is simple. Register here and submit a digital photo of your pet before Oct. 20, and FastSigns, a local printing company, will create a professional quality sign for you that will be on display to the public at Wolf Pen Creek Amphitheater on Sunday, Oct 25 from 10 a.m. to 6 p.m. You can pick up your own sign from 5 to 6 p.m., but go early and check out all the precious photos on display as well! Don't have a pet to order a printed sign of? Not to worry, you can still attend and peruse all the signs for free. Registering for a printed sign of your pet is $30 (nonrefundable).
And if just one photo of your pet isn't enough, you can also participate in Wags & Tags Across BCS. Follow this link to register for $5 (nonrefundable) and visit the 10 designated sponsors of Wags & Tags. Take a photo with your pet in front of each of the sponsors and post to your social media by Oct. 25. Don't forget to tag Wienerspiel and the sponsors! Then, you can pick up your medal on Oct. 25 from 5 to 6 p.m. in the Wolf Pen Creek Amphitheater circle drive.
You can also order an exclusive Wienerspiel face mask here for a donation in $5 increments. Shipping is $3 for up to 5 masks, and there is a free pickup option on Oct. 25 from 5 to 6 p.m. at Wolf Pen Creek Amphitheater.
Wienerspiel is a 501(c)(3) non-profit organization here in College Station with a mission to raise funds for non-profits who help homeless, unwanted, and neglected animals. Wienerspiel also helps organizations who support the human/animal bond and advocate in city and state governments. By donating or participating in Paws for a Pic or Wags & Tags, your contribution furthers their efforts!
Wags and Tags is sponsored by: Shipwreck Grill, Hungry Howie's, KAGS, KBTX, The Village, City of College Station, Prosperity Bank, FastSigns, Awards & More and Home2 Suites by Hilton College Station.
Sources: