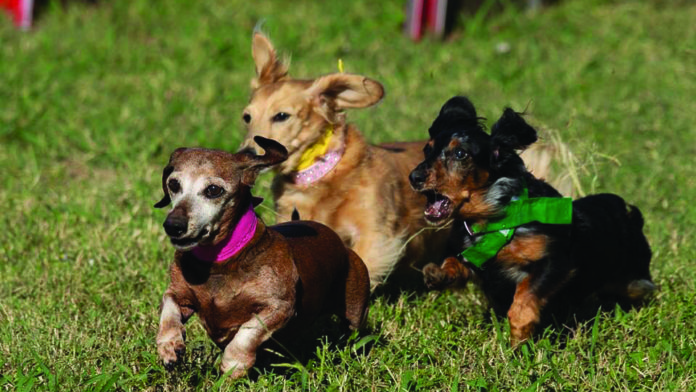 If you're a dog person and believe in giving back to our furry friends, this is the event for you! Local nonprofit organization, Wienerspiel, will be presenting its annual Wiener dog and Wanna Be races on Sept. 27-29!

The Wiener dog and Wanna Be Races event will consist of three days full of activities that both dogs and their families can enjoy, including a race boot camp, a costume contest, races, and a variety of vendors. While there's an entry fee for the races and the contest, there's a lot of fun to be had even if you're a bystander. Judy LeUnes, Wienerspiel President, says, "It's a community event that is free for families to attend and have fun."

On Sept. 27 from 5 p.m. to 7 p.m., the free race boot camp will kick off the weekend festivities. "The race boot camp is where the dogs can practice and get used to how the races are going to be," LeUnes says. There is no charge, and owners are allowed to be in the boot camp with their dogs.

The costume contest is open for all dogs who prefer expressing their creativity more than their athleticism. Starting at 11 a.m. on Sept. 28, you'll be able to witness these fur babies in their costumes. The categories include most creative, best dressed, least effort, most hi-tech and doggy duo, and you can be as invested in coming up with a costume as you'd like. "There was one time," LeUnes says, "when a participant dressed up her seven dogs in pirate costumes and had them in a carriage-turned-ship based off of the movie 'The Pirates of the Carribean.'" The registration fee for the costume contest is $15.

The Wiener Dog and Wanna be races will begin after the costume contest. The dogs participating will try to race to the finish line as their owners try to encourage them with their favorite squeaky toy. Of course the owners want their dog to win, but for the dogs and the bystanders, it's more about the fun. "Sometimes we have a dog that just comes and sits in the middle," LeUnes says. "This is all about the human/animal bond," she continued. "Everyone gets picked up and kissed whether they won or not."

The final day of Wienerspiel's fundraising weekend will be the last Wiener dog and Wanna Be races. There's a unique section in the event known as the "Special Olympian" races, which is open to dogs with disabilities. "Once a blind and deaf beagle flew down from Canada because they had never heard of anything like that before," LeUnes says. These races allow these dogs to compete comfortably with others just like them. "We need more special dogs in this event," Leunes adds.

Registration is $30 and participants will receive a t-shirt and goodie bag. All participants must bring proof of rabies vaccination from a veterinarian, as this event is all about the safety of the dogs and their people. Tags are not allowed as proof of vaccination. The race categories are divided by weight, gender, age, dog breed, and Special Olympian. Wiener dogs will race separately from the other breed dogs who will race in the 'wanna be' category.

The event will be held at Wolf Pen Creek Amphitheater the weekend of Sept. 27-29. The Post Oak Mall parking lot will be available for attendees to use. If you are interested in participating in the costume contest, races, or being a volunteer, registration is now open at Wienerspiel's official website. Payment can be done online and is highly recommended. Wienerspiel is always looking for volunteers to help out during the event by filling water bowls, collecting donations, helping the vendors unload, and much more.  If you want to laugh and have a good time with man's best friend, come on by and cheer on the dogs!

For more info or if you have any questions, go to: https://bit.ly/2kAAuWE