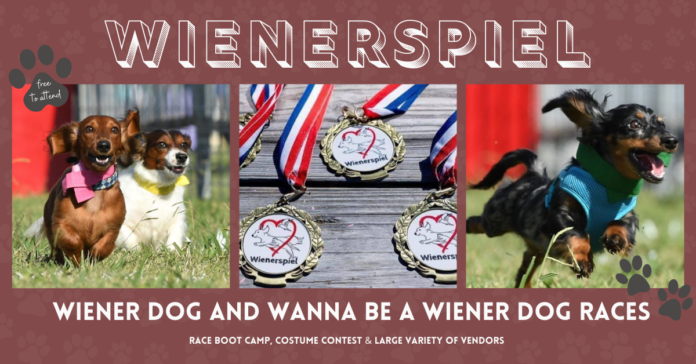 Calling all animal lovers! For a weekend filled with dogs, fun and raising support for our furry friends, Wienerspiel is the place to be! This local non-profit organization will be bringing delight to all involved at their annual Wiener Dog and Wanna Be Races at Wolf Pen Creek Amphitheater on October 16-17. Your dog's tail is sure to wag heartily at this free to attend, two-day celebration, complete with a race boot camp, a costume contest and a large variety of vendors and races.
The weekend kicks off on Oct. 16 with the Wiener Dog and Wanna Be a Wiener Boot Camp. From 5-7 p.m., dogs can participate in the free boot camp in order to get a little practice in before the big races the following day.
At 11 a.m. on Oct. 17, the vendors officially open for business. Then at noon, watch the dogs strutting their stuff with the costume contest. It's guaranteed to be a sight to see! Categories include most creative, best dressed, least effort, most hi-tech, and doggy duo, so bring your little prince or princess decked out to the nines! The fee to enter your furbaby is $15, with the proceeds going to help homeless and neglected animals. Wienerspiel also advocates at the city and state government levels for change on behalf of these animals.
The Wiener Dog and Wanna Be Races begin after the costume contest at 1 p.m. Wiener dogs race separately from other breeds in the 'wanna be' category, and the categories are divided into age and weight. There's even a special olympian category for our furry friends with disabilities. Registration for the races is $30, and in order to participate, all participants must provide proof of rabies vaccination. Sign up for the costume contest, races or to volunteer for the event on Wienerspiel's website. Despite the outcome of the contest and races, we're all winners, as both doggies and their humans have loads of fun!