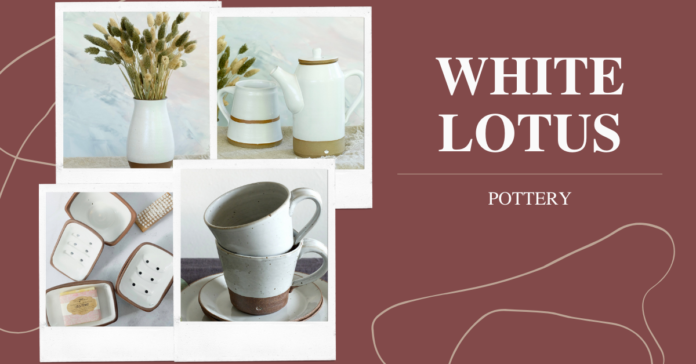 If you've ever tried throwing clay on a pottery wheel, you're well aware that your first time can be a real test in patience and perseverance, but Amanda Bartel, owner of White Lotus Pottery, is quick to emphasize the importance of giving it a try anyway. And a good teacher helps, especially with setting realistic goals. "I have never had a student take a pottery class and not be able to use what they made," Bartel says. "It might not be what they expected, but they can use it, they made it with their own hands, and they are proud of it. It's so cool that you can have zero experience and still make something functional to you."
This is the heart behind White Lotus Pottery.
Bartel teaches pottery classes in wheel throwing as well as hand building at her College Station studio inside her own home, where she also sells her own handmade stoneware. But White Lotus began long before Bartel landed in BCS by way of her husband's job as a professor at Texas A&M. Years ago, while Bartel was working as a full time occupational therapist, she began taking pottery lessons from an artist she met while Christmas shopping for ceramics. Then in 2011, she bought a pottery wheel on Craigslist and found a local potter who let her use his kiln to fire all of her pieces. It was then that Bartel was really able to dive into pottery and fell in love with it.
Fast forward a few years, and Bartel and her husband found themselves living in Berlin for a short time. Because she didn't speak German, finding work as an occupational therapist there was unlikely. Bartel says, "I Googled, 'pottery, Berlin, English' and I found a pottery studio run by an English speaking woman." Bartel ended up running the woman's studio for some time and teaching classes there. "The first class I ever taught was to an Australian dancer, an Italian artist, a whole mix of international people. It was also in Berlin that I sold my first piece of personal work to someone I wasn't related to," Bartel laughs. "It gave me a direct focus."
It was also in Berlin that she discovered the namesake for her pottery studio. Bartel says, "Since we were moving so much, I couldn't take a lot with me, but I did have a stamp with a lotus flower on it that I branded all of my work with." After Bartel and her husband moved back to the U.S., she found another studio to work at, and continued to brand all of her work with the lotus flower stamp. When it came time to open her own studio, the white lotus was a perfect representation of what Bartel wanted to embody in her pottery and her business. "Lotus flowers grow out of mud and muck," Bartel says, "but what comes out is a beautiful piece of nature's art." She continues, "I feel a calmness and connectedness when I'm forming a piece of art from nothing. For me, sitting at the potter's wheel is the ultimate meditation."
Over time and after moving to Texas, Bartel decided she wanted to transition away from occupational therapy into full time pottery. "As much as I loved being a therapist, I feel strongly that this is the path for me. Having a creative outlet like working with clay fuels my ability to be a good mom, and art is a great way to share that outlet with other people, too," Bartel says.
White Lotus is a two-fold business where Bartel both creates and teaches. "For the most part, my work is functional and is meant to be used." This mindset is something Bartel loves to instill in the students who take her pottery classes as well. "Mugs, bowls, pitchers… it's meaningful to make art that is meant to be utilized every day," she says.
She typically only has four students in class at once inside her home studio, which makes for close-knit, community-oriented classes. "To provide that community space and see people learn and grow in their own manner and be creative in ways that I wouldn't have thought of is so gratifying to me," Bartel says. While her wheel throwing classes are currently full for the spring, there are still spots open in the hand molding class. Bartel also offers occasional weekend focus classes along with hosting date nights, buddy classes, and pottery workshops.
Bartel loves to invite people in to be a part of the community she is cultivating at White Lotus. To keep up with updates about White Lotus and find out about class openings and chances to get involved at the studio, you can sign up for the mailing list on the White Lotus website.
Sources:
Interview with Amanda Bartel