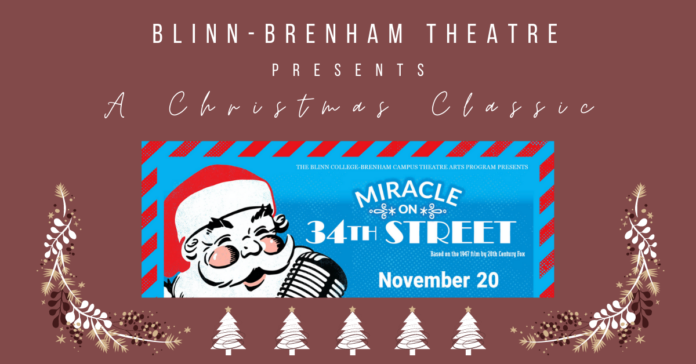 Christmas is finally here! And what better way to enjoy it this 2020 season than by tuning to the free, virtual performance of Blinn College-Brenham Campus's theatrical, "Miracle on 34th Street"? That's right, the Brenham theatre students are sharing their talents with the community to spread Christmas cheer at no cost to you!
The virtual presentation began on Nov. 20, but don't worry, you and your family still have time to watch this performance of a Christmas classic. The remaining times include this Christmas Day, Dec. 25, 2020, Jan. 1, 2021, and the closing performance on Friday, Jan. 8, 2021.
The original "Miracle on 34th Street" film aired in 1947 and tells the story of Kris Kringle filling in for an intoxicated Santa in Macy's annual Thanksgiving Day parade. Kringle claims he is the real Santa Claus, which leads to all sorts of confusion and culminates in a court case that proves miracles do happen at Christmas as long as we believe.
Due to the coronavirus, the performance has a twist. To keep the actors socially distant from one another, the show has been staged as a radio drama inspired by the radio plays of the 1940s and is part of Blinn-Brenham Theatre's aptly named "On The Air: Old-Time Radio Theatre" 2020-2021 season. There are two remaining performances: "Popeye and the Gang at the Zoo" will air Feb. 26 and "Completely Hollywood (abridged)" on April 29-May 2.
Free virtual tickets are available here. After you fill out your information, a link will be emailed to you so you can enjoy the show.
Watching this performance of "Miracle on 34th Street" is a great way to celebrate Christmas as a family at home and introduce the kids to a slightly different era of entertainment! You can also download a "Miracle on 34th Street" study guide with info about the history of the movie.
Make sure to get your tickets as soon as possible so you can tune in on time!
Sources:
Blinn Brenham Theatre Department