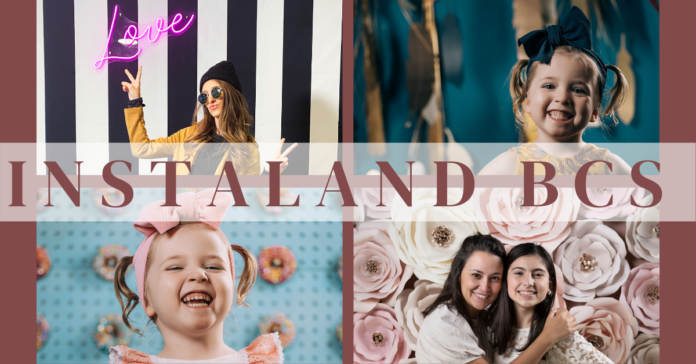 When Alice falls into Wonderland, she's confronted with brilliant color and magical beings, and her experience allows readers to explore the depths of their own imaginations. Pop up selfie museum Instaland BCS has a similar effect on people: wide-eyed wonder, laughter, and yeah, even joy in these trying times! Now an installment at our very own Century Square beginning Jan. 4, Instaland BCS allows you to let your troubles slip away as you create truly memorable photos with the people you love the most.
Picture this: your kids in adorable outfits, laughing in front of a wall of donuts. Your mom and sisters wrapping their arms around each other in front of a dried flower wall by Basecamp Flowers. And if you've ever wanted to look like a Chanel model on the runway, you're destined for greatness in front of the black and white stripes. Complete with six staged sets, Instaland BCS not only gives you a wonderland of choices, but makes it simple to cut loose and take some really stellar photos.
The concept isn't a new one, but what is new is having one of our very own, here in BCS, along with the amazing price tag of $10 per person for 20 minutes. And with the purchase of one adult ticket, one child under 10 will get in free! Additional children will need their own ticket. If you feel you'll need more time, be sure to purchase tickets with back to back time slots. Instaland BCS is super accessible as well. You can find Instaland BCS in Century Square in suite G40 next to Onward Reserve. They'll be open Tuesday—Sunday from 11 a.m. to 6 p.m.
Because it's a pop up experience, Instaland BCS will only be available until Feb 28, but Ashley Siegert, Owner and Creative Director of Siegert Media, and her team at Vacanva says that if there's a good response, they'll consider lengthening the event. Siegert also owns Fig-Mint Photography, and her photography experience inspired Instaland BCS. Siegert says, "Two and a half years ago, I went on vacation and we had to hire a photographer at the beach. When you're traveling, we discovered pulling together a photo shoot isn't easy, so we started Vacanva."
Vacanva partners with picturesque and iconic BCS locations, organizing the perfect photo shoot for you and your family, complete with wardrobe suggestions. One such location is Kyle Field, and during one particular day's shots, Vacanva team members kept hearing the same thing from their clients, "I got to forget everything!" Realizing that not only did the pandemic limit choices for all of us to get out and enjoy ourselves but that we're all struggling to find joy in the moment, Siegert and Vacanva came up with a way to fix that, and Instaland BCS was born.
Siegert says the message of Instaland BCS is simple: "Since everything is so stressful, leave that at the door. Legitimately have fun and leave it outside. It's a fun thing to go do! Photography should enable that." She continues, "We're selling single tickets but expect groups of twos and threes because most will come with a friend. It's something you can do as a best friend date or for date night. And it's safe because you'll be more than 6 feet apart for each one, so you won't have to think about that when you're in there."
Standing in front of a wall of sprinkle-covered donuts, it's hard to keep a straight face. This month, you'll find six displays to pose in front of, with a new set next month. And no matter who you are, the sets make it easy for you. Snap all the shots you want as you pretend to be fashion plates and strut your stuff. The guys can cut up with crazy faces and a lot of back slapping. And don't forget to bring multiple outfits for a quick costume change!
There's just something magical about the huge displays of color, drama and texture, something transforming, that makes you lose your inhibitions, strike some new poses, and get out of that worried space in your head. And it's perfect for businesses, too! Need a team building exercise or group photo? Small teams or families may request a private time slot and get the whole space at once! And Vacanva can also be on hand for professional level photos if that's what you're looking for. Just be sure to message them ahead of time to set it up.
Siegert and Vacanva have worked hard at making it a mesmerizing experience and a protected one. Siegert says, "Instaland BCS is very Covid safe, and we very intentionally kept the price point low." Only 12 tickets will be sold for each 20 minute time slot, and you'll need masks when you're not the one posing. You'll be able to take as many shots as you like in that time frame, but since no more than three people may pose on a set at any one time, do check out the private time slots if you're interested in photographing all six kids with their Great Aunt Gertrude. Siegert recommends making it a team event and booking the evening, bringing your team for three to four hours.
But hurry, because time slots are already on sale! Siegert says, "It's become this new fad idea. And since you're already at Century Square, have a fun meal afterwards."
Ready for your close up? Instaland BCS is ready for you, too! Don't miss your chance! It will only be here until the end of February! Tickets on sale now at InstalandBCS.