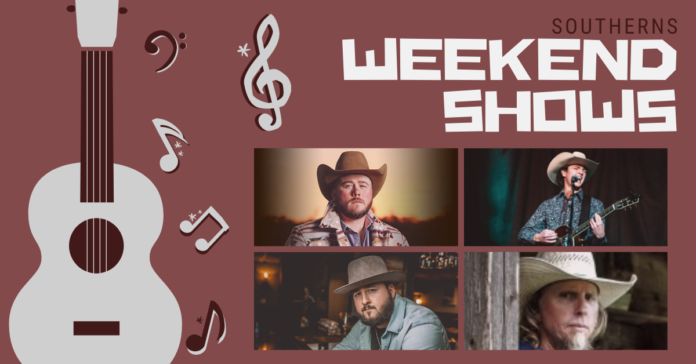 Now that the ice from the winter storm has melted, what better way to celebrate than with some great, local shows? Southerns, next to the mall in College Station, has you covered on that front, and they have a great slate of country music performances for you this weekend.
First of all, this Friday, February 26, you will be treated to Josh Ward along with his opener, Jake Bush. From his time on the rodeo circuit and the Texas oil fields, Ward knows all about hard work, and that work ethic gets poured into his music. Probably part of the reason behind his success, with his four studio albums, nine number one hits in Texas, and multiple millions of listens across platforms like YouTube and Spotify.
Bush is a US army vet and touring machine, regularly putting in 250 shows a year. He's opened for the likes of Big & Rich, Glen Templeton, Jake Worthington, Cory Morrow, William Clark Green, Parker Mccollum, Rick Trevino, and many others. Ward and Bush will play at 8:30 p.m., and you can purchase the $12.00 tickets straight from Southerns' website.
Next, on Saturday, February 27, Jarrod Birmingham will perform along with his opener Cannon Brand. Birmingham is a real cowboy from South Texas, whose love for music won out over his love of bull riding. Birmingham is committed to keeping country music real, gritty, and blue collar.
Brand, a relatively new face in the Texas country scene, has already opened for Texas greats such as Cory Morrow, Roger Creager, Randall King, Deryl Dodd, and more. Brand is a prolific writer; he pens his own songs, and he is working hard on his first full-length album. Tickets for this show are $10.00, and it starts at 9:00 p.m. For more info, check out the event page.
Sources