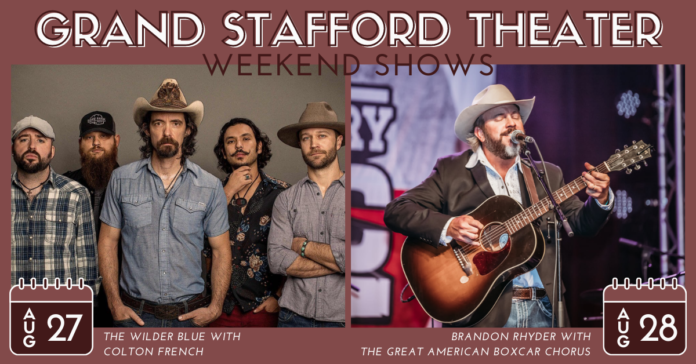 With the fall semester already begun for some people and right around the corner for others, it's a good time to get in that last ounce of summer fun! Luckily, our friends over at the Grand Stafford Theater in Bryan are hosting some concerts this weekend to help us do just that. The Wilder Blue will play with opener Colton French on Friday, August 27, at 8:00 p.m., and Brandon Rhyder will perform alongside the Great American Boxcar Chorus on Saturday, August 28, at 8:00 p.m. as well.
The Wilder Blue is a Texas-based supergroup that has collected talented musicians from the four corners of this state. Fronted by Zane Williams, who has had a long successful career as a red-dirt artist, The Wilder Blue is a band full of other recognizable Texans: Paul Eason, Lyndon Hughes, Andy Rogers and Sean Rodriquez. As a band, they play a fun mix of country, bluegrass, rock, and folk music, and are known for putting on an electric show!
Colton French is a Brazos Valley-based musician whose work can best be described as Traditional, with themes that are anything but, covering everything from beauty and religion to self-reflection and social participation.
Tickets are $20 in advance and $25 at the door, and you can pick them up from the Grand Stafford Theater's website.
Brandon Rhyder likewise has been a red-dirt staple for well over a decade; after all, he first made a splash here in Texas right around the turn of the century, and he's been moving forward ever since. And why shouldn't he be, with his superb vocal style and ability to capture the human condition in songs that tell gripping stories. With nearly ten albums and singles under his belt, Rhyder is a veteran of the stage, so don't miss your chance to see him live!
The members of College Station-based Great American Boxcar Chorus are no strangers to The Grand Stafford or bars, music halls, and festivals all over Texas. Lone Star Music calls their sound a mix of "driving bar-band country, adventurous indie-rock, catchy mainstream rock and lyrically driven folk."
Tickets are $15 in advance and $17 at the door, and you can also pick them up from the theater's website.
Don't miss out on the fading embers of summer just yet! Come out and enjoy some country music out on the town at the Grand Stafford Theater!