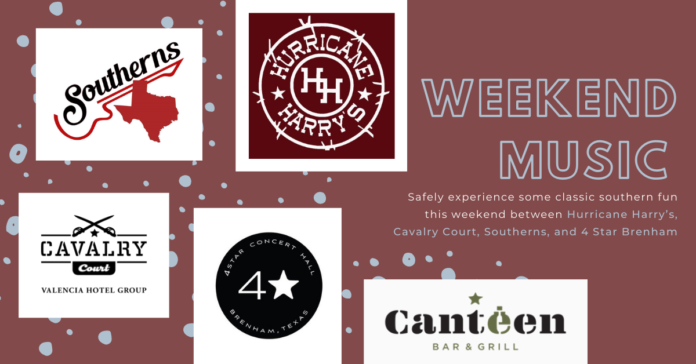 Safely experience some classic southern fun this weekend between Hurricane Harry's, Cavalry Court, Southerns, and 4 Star Brenham.
Thursday, Feb. 18
Hurricane Harry's kicks off the weekend with Americana rock songwriter Austin Mead. His experience as a drummer and guitarist, as well as metal and classic rock influence, shaped his sound and passion for music. Thursday at Harry's also features San Antonio local songwriters The Reed Brothers as guests. The show begins at 9, with tickets available for $12.
Friday, Feb. 19
Cavalry Court Hotel's Canteen Bar & Grill hosts classic country band Lee Mathis & the Brutally Handsome from 7:30-10:30 Friday evening. Their versatile music ranges from outlaw country to blues to classic rock. Guests hoping for a longer getaway can book a room and turn their concert into a staycation.
Several artists will perform at Southern's Songwriter Showcase evening hosted by 2019 New Female Vocalist of the Year Morgan Ashley and self-produced outlaw singer-songwriter James Wesley & The Resonance. Discover about 14 additional artists, including Aggie yell leader Keller Cox, in just one night beginning at 7 p.m. with a $10 cover.
Seven-time Texas Female Vocalist of the Year Bri Bagwell visits 4 Star Brenham to perform her songs from any of her several country albums from 7-11 p.m. She's been known for her fun performances through which her strong personality shines. You can grab tickets online through Facebook, starting at $20.
Saturday, Feb. 20
Texas-native Kody West joins Hurricane Harry's on Saturday, featuring his newly released sophomore album "Overgrown." Since his debut album in 2017, West has been growing a large audience and a skill for live performances. The show starts at 9 p.m. and tickets start at $15.
Southerns shakes things up with a country comedy night at 8 featuring host of Blaze TV's The Chad Prather Comedy Show Chad Prather and country singer-songwriter Cooper Wade, all hosted by 2019 Funniest Comic in Texas finalist Jesse Peyton. You can't miss this unique combination of humor and harmony. Tickets begin at $20.
4 Star welcomes Sarah Green and The Gringos take the stage from 8-11 p.m. on Saturday. Green cites Stevie Ray Vaughn, Patsy Cline, and AC/DC as influences, so it's no surprise this band's music is a delicious blend of Americana, blues, and Red Dirt. Starting at $5, these tickets are a steal!
Lastly, Canteen Bar & Grill hosts The Brian Turner Band – Rockabilly Deluxe at 7:30 p.m. for a three hour concert. This trio brings decades old styles of jazz and R&B for a trip back in time.
There's something for everyone this weekend in BCS, so be sure to pick one, two, or three events to reset before the week begins again!