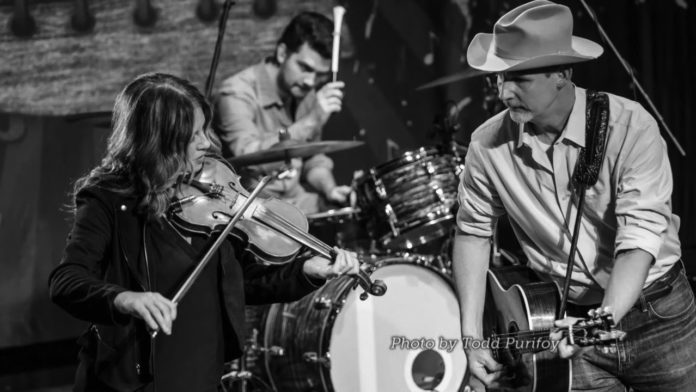 It's the weekend again, and that means 4 Star Concert Hall in Brenham has a packed schedule of quality music! Here's what's coming your way this weekend:
Max and Heather Stalling Feb. 7, 8:00 p.m.
Fans will have a unique opportunity to see this singer-songwriter, husband-wife duo pair up, bringing a fun and authentic country experience to this show.
Max has a soothing, almost effortless voice that is complemented by smooth guitar playing and other instrumentals. He is also a gifted songwriter. His songs often take place in the rugged South Texas brush country where he was raised. The incredible detail of his lyrics makes it apparent that he has actually lived the events and feelings that he writes about, which can be a rarity for an artist today. It's almost as if he is able to teleport his listeners into his songs where they are able to share those same experiences.
Heather is an accomplished fiddle player who has been playing since she was a small child. In 2005, she joined together with fellow musician Andie Kay Joyner to form the group blacktopGYPSY. Together, they have released two studio albums and toured all across Texas. Expect Heather to play the fiddle, acoustic guitar and provide back-up vocals for this show. Doors for the show will open at 7:00 p.m.
Hayden Nicholas and Randy Warmuth with Ben Laskoskie Feb. 8, 9:00 p.m.
Opening the evening will be Brenham local Ben Laskoskie. Although only in his early twenties, he has a powerful voice that carries well. He's played multiple genres, including Americana and rock. Laskoskie should be particularly entertaining to watch as he often performs as a one man band.
Nicholas and Warmuth's history goes all the way back to the late 1970s when the two performed together as members of the band Southpaw. Warmuth has a strong singing voice that is reminiscent of Van Morrison, and he often sings in a laid back style that is soothing to the ear. Since his Southpaw days, Nicholas has perhaps become best known for his guitar playing and songwriting abilities. He joined forces with country music superstar Clint Black in the late 1980s, and the two have had quite a prolific partnership since then. Nicholas serves as Black's lead guitarist, and the pair co-wrote hits "Killin' Time" and "A Better Man." This should be an entertaining show featuring two experienced artists that bring a lifetime of experience to the stage. Doors will open at 8:00 p.m. and the show will start at 9:00 p.m.
For more information and to purchase tickets, please visit http://bit.ly/37yW5lq