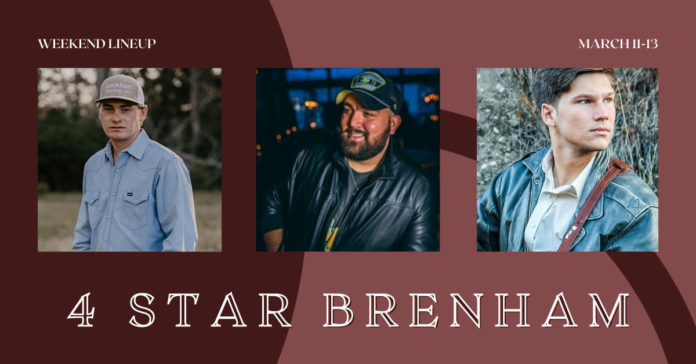 Grab your dancing shoes and your best friends and head to 4 Star Brenham this weekend for some live country music! Here's what's coming your way:
Thursday, March 11:
Ethan Hanson will kick off the weekend lineup at 4 Star Brenham. By using his life experiences to shape his songwriting, this Texas A&M student whipped up a nine-track EP titled, "So Long Small Town." Infused with the soothing sounds of the acoustic guitar, this rising musician's raw emotions are displayed in his songs which are sure to draw you in! The show starts at 7 p.m. and the tickets are free.
Friday, March 12:
Come on out to 4 Star Brenham again on Friday to celebrate the release of Bubba Westly's debut album "Small Town Loser." Inspired by the realities of growing up in a tiny Texas town, Westly will be telling stories about himself through his self-described "smooth soul and foot-stomping rock and roll" music. At the concert, Westly wil have autographed CD's for purchase, as well as other merchandise such as shirts, hats, and more. With tickets starting at $10, make sure to come out at 7:00 p.m. to see this local Brenham singer!
Saturday, March 13:
Texas-native and former Aggie Carson Jeffrey will wrap things up at 4 Star Brenham! Taking the stage at 9 p.m., Jeffrey will be playing songs from both his freshman and sophomore albums. He never thinks about what style he's fitting into, and
"just worries about trying to make good music," so it's no surprise this young singer/songwriter is already making headway in the country music scene. Starting at $10, these tickets are a steal!
With all the live music at 4 Star Brenham this weekend, there is definitely something for everyone! So grab your friends and make plans to go see a concert or two, or hey, even three!
Source:
Artist Spotlight: Carson Jeffrey