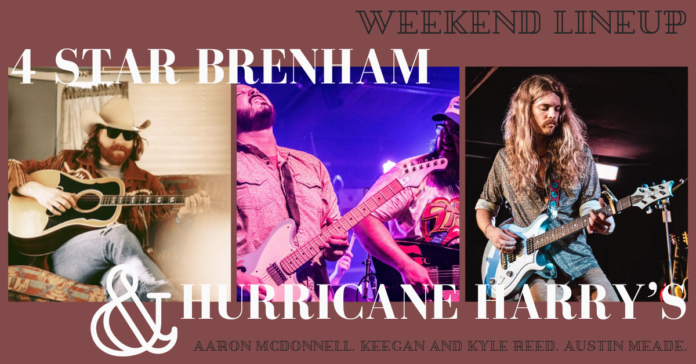 As the weather starts to heat up, so are the weekend lineups! With two live shows coming at you this Friday, one at 4 Star Brenham and another at Hurricane Harry's, read below to learn more!
4 Star Brenham: Aaron McDonnell & The Neon Eagles
Rounding out the April lineup at 4 Star Brenham is country music artist Aaron McDonnell! After being a part of several different bands, McDonnell has emerged as a successful solo artist over the last few years, with five EPs and a few new singles with The Neon Eagles under his belt, and you can look for an album coming out this year. Featuring musical influences from country classics such as George Jones and Johnny Cash, McDonnell also infuses his songs with Texas inspired beats, making it almost impossible to stay in your seat! Be sure to head out to 4 Star early and enjoy their happy hour specials from 5 – 7 p.m., then kick back and relax until 8:00 p.m. when the show starts and the fun begins! Tickets for this event start at $10 and can be purchased here.
Hurricane Harrys: Austin Meade with The Reed Brothers
After having to originally postpone his show due to the historic freeze that hit Texas back in February, Austin Meade is set to take the stage at Hurricane Harry's this Friday! Unlike other country artists, this former Aggie, class of 2015, uses his love for classic rock and roll to influence his songs, giving him a unique sound that is unlike any other on the music scene right now. Writing about love and life, his soft yet rustic voice draws listeners in, and paints a picture of what it's like to be a young man moving through life. The show starts at 9 p.m., and tickets start at $12 and can be found here. If you previously bought a ticket for February 18, those are good as well!
Hailing from San Antonio, Texas, brothers Keegan and Kyle Reed will be opening up for Austin Meade at Hurricane Harry's this Friday night. Featuring songs from their 2016 and 2020 albums, The Reed Brothers' perfect blend of instruments and lyrical storytelling will make for an opening show that you will not want to miss!
So whether you want to make the short drive out to Brenham, Texas to see Aaron McDonnell, or stay in town and listen to Austin Meade and The Reed Brothers, either show's a great way to spend your Friday night!