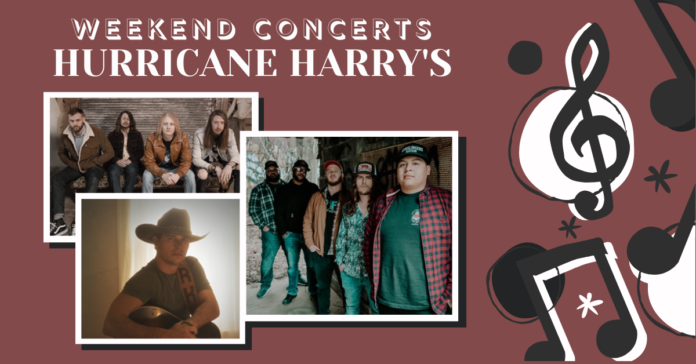 Time to get excited—Hurricane Harry's is opening back up after the winter break with three events this weekend! Put on your boots and make sure to free your schedule for 9 p.m. on Friday, Saturday, and Sunday night.
Kicking off the concerts is Read Southall Band with guest Huser Brother Band on Friday, Jan. 15. Read Southall Band consists of four members from Oklahoma who have been performing together since 2016 with a southern-rock sound. Huser Brother Band is from a city just up the road from us on Highway 6—that's right—Waco, Texas. They released their first EP in 2018 and are on the rise in country music with their particular blend of soul, blues, rock and country.
On Saturday night, Jan. 16, Randall King and Hayden Baker will perform. Randall King, a guy from a small town in East Texas, debuted in 2016 with his classic country style EP "Another Bullet." Hayden Baker, another Texas native, began his music career by posting guitar "how-to" videos on YouTube, but quickly rose to opening for the likes of Larry Gatlin, Wade Bowen, Parker McCollum, Randall King and Josh Ward.
Ending the weekend performances are Giovannie & The Hired Guns and Tanner Usery on Sunday, Jan. 17. Gio & the Guns formed the band in 2015 out of Stephenville, Texas and their music mixes rock & roll with country. Tanner Usery is an up and coming singer/songwriter from Prosper, Texas, who released a solo debut in 2017 after being in a band with his brother for four years. Every night the doors open at 9 p.m., so make sure to plan ahead and be there early! You don't want to miss the music!
All shows have limited capacity due to COVID-19, and are seated only, so there's no standing room. Tables are sold with 4, 6, and 8 seating capacity, and booths seat 5. Masks are required upon entry and while walking around. When seated in your designated area, you are allowed to remove your face covering if you wish.
Bring your group of friends with you! Purchase your tickets now if you want to go, since the shows can sell out fast due to reduced capacity. To get your tickets in advance, click here! If the show isn't sold out the day of, you can still purchase tickets at the door. But don't count on it! With students back in town, the tickets will be going fast!
Prices range from $15 to $280 depending on the table size and if you want general admission or VIP. Hurry and pick what night you and your friends want to attend, so you get good tickets, or if you're available every night, you don't have to choose and can listen to all of them!
Source: