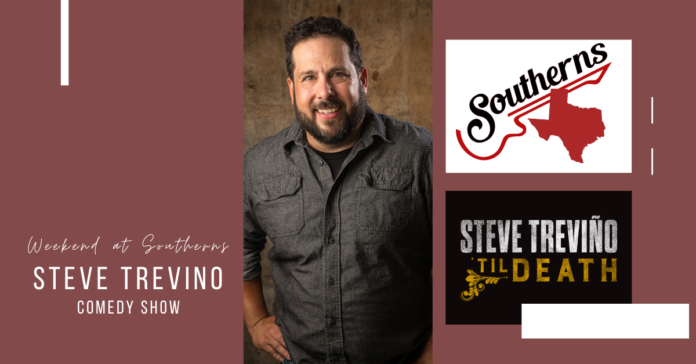 As 2020 moves closer to its final months and the fall skies get greyer, there's nothing like sharing some heartwarming laughs with a relatable comedian to brighten your day. As usual, Southerns has just the right recipe to leave you more than satisfied with your weekend, and this time around, it's a comedy show featuring Steve Trevino on September 25 and 26!
To many, Steve Trevino is known by his title "America's Favorite Husband" because of his personal and very relatable comedy, even being described by author Rick Florino who says, "You could invite [Trevino] over for a nice civilized dinner with the wife and kids – or brews and barbecue in the backyard with your buddies." Trevino's appeal as a comic also stems from his pride in being a family man, utilizing his experiences as a father and husband in modern life. While he very evidently loves being in those roles of responsibility, Trevino also honestly and hilariously describes many of the daily scenarios he goes through with his family. Whether it be through arguing the importance of setting up a swing set for his kids by himself (as opposed to 'calling a guy') or the very apparent double-standards of having to pick up his wife's calls, Trevino's goal with his comedy is to bring families closer together while also presenting his own perspective on Mexican-American families.
Tickets for the show are being sold at $25 for general admission and $40 for VIP passes with the doors opening at 7:00 pm sharp. Southerns does have wheelchair access as well as seating for patrons with mobile disabilities and is happy to make any accommodations. Social distancing protocols will also be in place to ensure the safety of all customers while also providing for an entertaining evening.
https://southernstexas.com/events