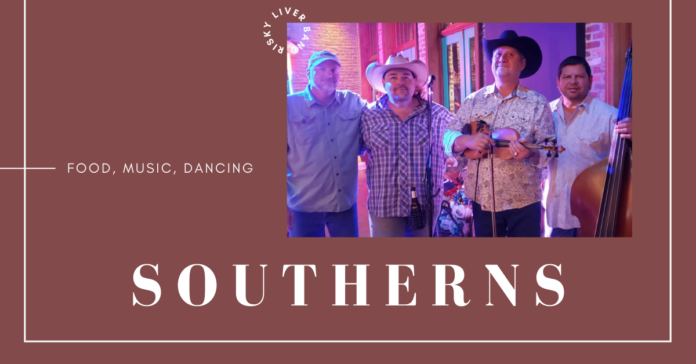 While we won't have inches of snow to play in like we did this past Sunday in BCS, we will have the opportunity to enjoy some food, music and dancing at Southerns this weekend!
Risky Liver Band, performing on Jan. 16, describe themselves as a traditional dancehall band offering classic to modern country, zydeco, western swing and more. Founded in 2015, the four-man band featuring Cory Bosley, Robert Stutts, Jerry Moreno, and Norman Newton will take center stage starting at 9 p.m. Guests can tap their feet to the rhythm of the music, boot scoot across the floor, and let the sounds of country music fill their ears on Saturday night.
In addition to enjoying the music, guests can also indulge in loaded nachos, cheese burgers, a variety of pizzas, salads, and other entrees and desserts cooked up by the Southerns staff.
With the doors opening as early as 7 p.m., and an $8 cover charge due at the door, guests can enjoy their evening at Southerns, located in the Post Oak Mall, suite 2036, all night long.
Take a friend, significant other, or even feel free to go by yourself for a fun night out on the town! Make sure to bring your mask, and don't forget to put on your cowboy hat and your best pair of dancing shoes for a great time at Southerns!
Source: https://www.whiskeytangobartx.com/event/risky-liver-band-live/