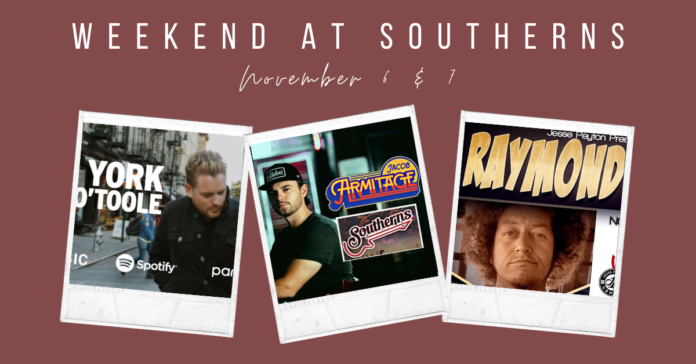 Enjoy two nights of laughter and dancing at Southerns! Come out and see comedian Raymond Orta, hosted by Jesse Peyton, on Nov. 6 at 7:00 p.m., and enjoy the musical talents of Rich O'Toole with Jacob Armitage on Nov. 7 with the doors opening at 7:00 pm.
Raymond Orta has been doing standup comedy since the age of 8, so he knows what it takes to make a crowd laugh. In fact, Orta now has audience members fill out a waiver form before his act, due to making someone laugh to the point of passing out. That may be a joking stretch of the truth, but it still gives you a good idea of just how much fun people have when Orta performs.
Native to Houston, Texas, Rich O'Toole is an up and coming country singer that's hitting the music scene with full force. With seven albums and ten years worth of performances under his belt, O'Toole is a pro when it comes to touring. His newest album "New York" was released this year, which according to his website, is "filled with stories pulled from O'Toole's recent travels across the country, set to music that defies easy categorization." O'Toole's muse for songwriting comes from his own personal life stories, making his music relatable to his fans and new listeners.
Performing alongside O'Toole, Jacob Armitage is also a Texas native that brings his own charm to country music. His singles "Runner" and  "Drift Away" were released in 2019 and "Once Upon a Time" in 2020.  Texas Internet Radio says, "With more music to be recorded, and shows booked across Texas, the future is bright for this young songwriter."
Comedy night tickets run from $30-$50, and Rich O'Toole and Jacob Armitage tickets start at $10. Both are available on the Southerns website.