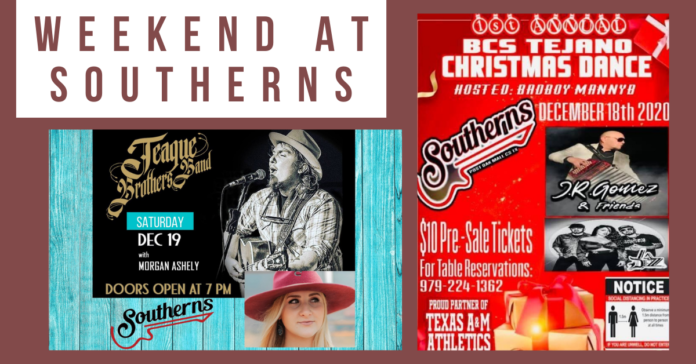 A chill is moving into the Brazos Valley, so why not warm up this weekend with some music and dancing at Southerns? They're hosting the first annual BCS Tejano Christmas Dance this Friday, as well as Teague Brothers Band with Morgan Ashley on Saturday, so come ready to dance the night away!
First up on Thursday is the BCS Tejano Christmas Dance hosted by Badboy MannyB! This party will feature the musical stylings of J. R. Gomez and friends as well as La Dezz and Starcanon Entertainment, so there should be no shortage of tunes to get those toes tapping. This hopes to become an annual event, so don't miss out on its inaugural dance! The whole party starts at 9 p.m. on Friday, Dec. 18, and tickets can be bought online for $10 or at the door for $15.
On Saturday, Southerns gets musical once again with a performance by Teague Brothers Band and Morgan Ashley. Formed locally in Texas, Teague Brothers Band adds a dash of rock into their country sound, forming a uniquely Texas blend that's sure to captivate an audience. College Station native Morgan Ashley has a powerful voice that serves her classic country brand well, and her traditional music with a modern twist will be an excellent addition to the evening's lineup. Doors for the event will open at 7 p.m. on the 19th, with Morgan Ashley performing at 8:30 p.m. and Teague Brothers Band starting at 10 p.m. Tickets can be purchased online for $7 or at the door for $10.
Wear your best dancing shoes, don your cowboy hats, and mask up to come party the weekend away at Southerns before they close for the holidays!