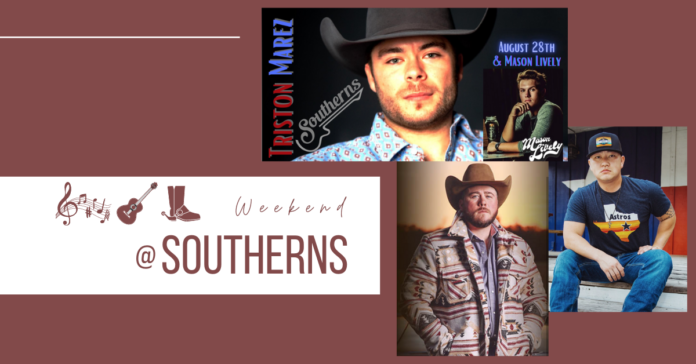 Feeling sad that summer is coming to a close? Don't be! Another fun weekend at Southerns is right around the corner. From open mic night to up and coming performers, Southerns has it all.
Kicking off the line-up of events is Open Mic Night on Wednesday, Aug. 26 at 7 p.m. This event is free and open to all songwriters, singers, and bands. Those who wish to perform are instructed to arrive prior to 10 p.m. in order to secure a spot on the list. The winner of the night will receive a $50 Southerns gift card as well as an invitation to perform at the finals on Sept. 10. Patrons can expect free entry and entertaining local talents at this event.
The fun continues into Thursday, Aug. 27 at 7:30 p.m. with a Karaoke Night hosted by Sandra D Karaoke. Enjoy free entry, $3 wells, $1.75 domestic draft beers, and even one free chips and queso with the purchase of an entrée! Grab some friends, warm up your vocals, and head to Southerns to belt out your favorite tunes.
Don't miss 22-year-old singer Triston Marez performing on Friday, Aug. 28. The Houston native, who has been singing his whole life, released his debut EP, "That Was All Me," earlier this year, and will be performing his new songs. Marez's musical influence is attributed to his Oklahoman family whose bluegrass and fiddle talents helped shape him as an artist.
Friday's show begins with Alt-Country singer/ songwriter Mason Lively. Lively, who hails from the rural Texas town of Inez, has been playing guitar and songwriting since early in his teen years and is currently in the studio working on his sophomore album. The doors open at 7 p.m., and Lively is scheduled to kick off the evening at 8:30 p.m. Tickets can be purchased for $10 prior to Friday or for $12 the day of.
Rounding out the weekend is Texas country singer Josh Ward on Saturday, Aug. 29 at 9:30 p.m. The former Cody Johnson opener will be headlining the evening, likely performing songs from all three of his venerated albums. Ward, who boasts over 3 million streams on Spotify, will be taking the stage after opening act Cody Hibbard.
The native Oklahoman Cody Hibbard and his band have had a busy 2020 so far, releasing Hibbard's debut EP, "Memory and a Dirt Road," and will start the evening at 8:30 p.m. The doors will open at 7 p.m., so get there early, grab some food and drinks, and secure a spot to rock out to Hibbard's unique sound and style! Tickets for Saturday can be purchased on the Southerns website beforehand for $12 or for $15 the day of.
VIP booths, reserved seating, tickets, and more can be found on the Southerns website or Facebook page.
Sources:
https://tristonmarezofficial.com/bio
https://www.joshwardmusic.com/bio.html