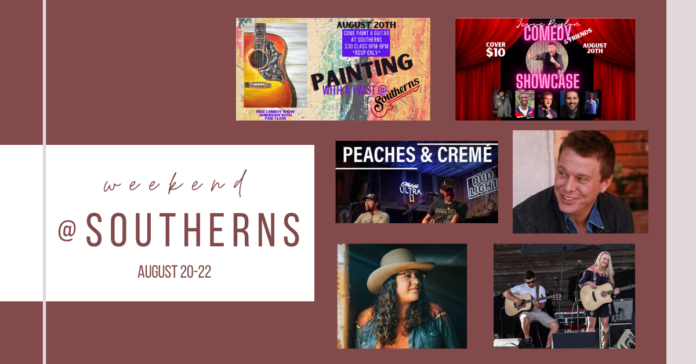 Itching for something sweet this weekend? Come on down to Southerns for some Peaches & Creme — the band, that is! Southerns' jam-packed weekend lineup starts on Thursday, Aug. 20 with Painting with a Twist, followed by a comedy showcase and a post-show party with DJ Adonis. The weekend keeps on rolling into Friday, Aug. 21 with Peaches & Creme, featuring Briana Adams opening. Then, on Saturday, Aug. 22 celebrate the end of a long week with Tyler McCollum and Billie Jo!
First up is Painting with a Twist. It's a traditional Painting with a Twist class, but this one takes place on the Southerns dance floor and lets guests paint a rustic acoustic guitar. Class will be held from 6-8 p.m., and tickets can be purchased for $30 a person. To sweeten the deal, a ticket to Painting with a Twist also includes admission to the following comedy showcase!
Continuing the Thursday evening party, from 8:30-11:30 p.m. Southerns is hosting the Jesse Peyton & Friends Comedy Showcase. Sure to make you laugh your socks off, this lineup includes a large array of comedians, featuring Houston native Jesse Peyton. There is a cover charge of $10, but if you attended the Painting with a Twist class prior, your admission is included. But don't leave the minute the show is over — DJ Adonis, voted Maroon Weekly's Best of BCS DJ two years in a row, will be performing a free event as a sort of afterparty! It's sure to be a jam-packed evening to kick off a weekend of fun!
Peaches & Creme was born from a series of casual open mic nights, after which frontmen Joey Pruski and Jody Bartula decided to form an official group for their musical antics. They describe themselves as "drunken 90's country awesomeness," and now they and their band perform around the South Central Texas music scene.
Opening for Peaches & Creme on Friday is Briana Adams. She's not exactly new to the Texas country music scene, having recorded her first album when she was only in high school. Her powerful voice draws back to classic country roots, while also throwing in some other influences, such as rock and roll and the blues. The combination of Adams and Peaches & Creme is sure to produce a spectacular night!
But the party doesn't stop there — come back on Saturday night for Tyler McCollum and Billie Jo, both Texas natives making their mark on Texas country music. Formed by country music in such critical places as Stephenville, Nashville and Austin, McCollum aims to produce unique songs rooted in the influences of his favorite Texas songwriters.
Billie Jo got her start with a gospel album, and still carries her faith with her through her more recent country songs. A veteran of singing competition shows such as "American Idol," "The Voice" and "Real Country," she credits her grandparents' classic country taste as playing a role in forming her current style.
All these events will be at Southerns the weekend of August 20-22. Reserved seating and VIP booths can be purchased on Southerns' website.