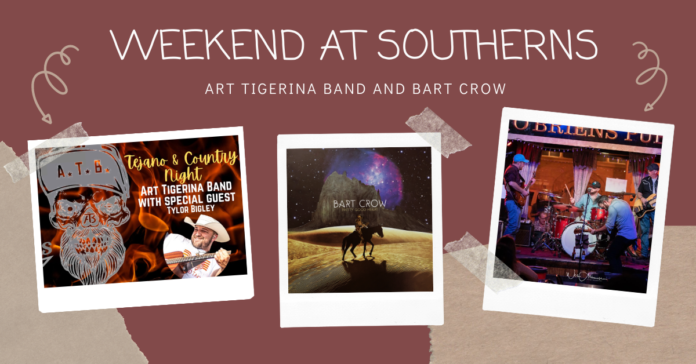 This weekend, get out on the dance floor, listen to live southern rock, and show off those cowboy boots at Southerns! They've booked several artists to help you to unwind from the week and let loose. Here's what you can expect:
Tejano and Country Night with Tylor Bigley Band Feb 12, 9 p.m.
Art Tigerina Band will perform their versatile music Friday, featuring Bryan/College Station local and soulful vocalist Art Tigerina. As a native Texan originally from BCS, Tigerina specializes in Tejano music with a country and rock flair. His unique style is sure to get your feet moving and finally back on the dance floor.
A self-taught musician, Tigerina discovered his vocal talent as a teenager in a rock band. He went on to lead sing for Grupo Vida for 17 years, winning awards that include TTMA Show Band of the Year, TTMA Male Entertainer (and Vocalist) of the Year Award nominations, and three Grammy Nominations.
After a year off in 2013, Tigerina began his successful solo career with the Art Tigerina Band, and he was named "TMA's Male Vocalist of the Year" in 2018. His music has also been featured on the Top 20 list on Tejano Gold Countdown in 2019.
Before Tigerina takes the stage, opening act Tylor Bigley will open and kick off the country music for the evening. Be sure to catch these artists while they're in town for just a $10 cover charge at the door.
Bart Crow with Taylor Branch and The Lone Star Ramblers Feb. 13, 7 p.m.
Also a born-and-raised Texan, Bart Crow began writing songs while serving in the Army. He now performs a unique blend of Red Dirt, Texas Country and Americana music. He's sold over 40,000 albums and appeared as No. 1 on Billboard's Heatseekers South Central Chart and the Texas Music Chart.
Before Crow performs, you can hear Taylor Branch and The Lone Star Ramblers' Southern rock edge music. Branch says that for each performance, the band leaves it all on the stage. "People deserve that kind of show, and we will give it to them."
Doors open on Saturday at 7 p.m., Taylor Branch and The Lone Star Ramblers will open at 8:30 p.m, and headliner Bart Crow will perform at 9:30 p.m. You can get tickets on Etix for $15, and first responder, military, and senior discounts apply. If you wait until the last minute, no worries, tickets are available for $20 at the door.