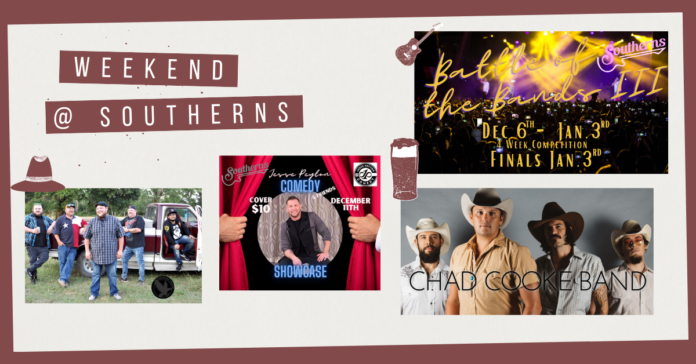 As the weather gets colder, everyone's searching for some warm, cozy indoor activities. What better way to escape the chill than with Southerns' talented weekend lineup? Between music and comedy, the slated performances are sure to dazzle, and the whole weekend culminates with an epic Battle of the Bands on Sunday!
First up in the weekend lineup is Patriot Road on Thursday, Dec. 10. A local band specializing in that unique Texas sound, they play everything from covers to original songs with their own personal style. No matter if you're a fan of old-school classic country or newer CMA winners, Patriot Road has something for you; they even venture into other genres, like classic rock, for example. Patriot Road goes on at 8:30 p.m., and there will be a $6 cover charge for the event.
On Friday is another Comedy Showcase by Jesse Peyton Comedy and friends! This whole night of fun kicks off at 8:30 p.m. and tickets are $10.
Spend Saturday night, Dec. 12, with the Chad Cooke Band and David Adam Byrnes! Texas music scene veteran David Adam Byrnes opens the show at 8:30 p.m., showcasing his signature "honky tonk" music and songwriting talents and celebrating his latest release, the full-length album "Neon Town." Following Byrnes at 9:30 p.m. is the Chad Cooke Band, which was bred in Houston but is now making impressions around the state with their harmonies and rock and roll infused country style. The show starts at 8:30 p.m., doors open at 7, and tickets can be bought in advance online for $10 or at the door for $12.
Round out the weekend with Battle of the Bands on Sunday! This is week two of the four-week contest, all wrapping up with a final competition on Jan. 3. This free event is a great way to discover up-and-coming local artists and to enjoy a fast-paced competition filled with lots of new music. You can catch this musical contest on Sunday, Dec. 13 beginning at 8 p.m.
Southerns is constantly adding new acts and lineups, so even if this weekend is already too jam-packed to make it, keep up with their rotation by checking their website.