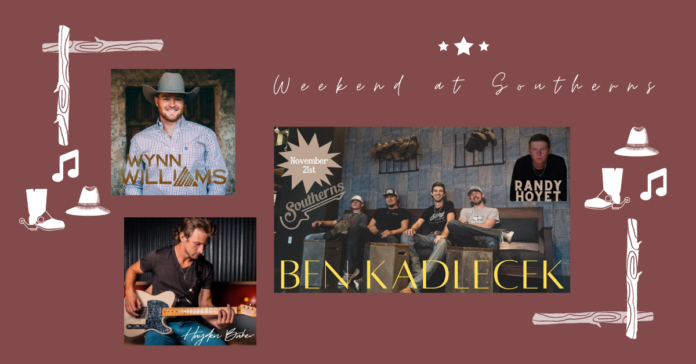 Bringing country music to Brazos County, Southerns in College Station offers the chance to see live music on a weekly basis. On Nov. 20, Wynn Williams and Hayden Baker will perform and do an acoustic song swap. Ben Kadlecek will take the stage the following night, Nov. 21.
Wynn Williams has the true grit of a Texas cowboy. Singles such as "Man What a Woman" and "Yeah Buddy" on his self-titled album celebrate "time-honored Texas traditions of honesty, hard work, respect, and a whole lot of fun," according to his website. Having years of experience in live performances, as he's shared the stage with the likes of Parker McCollum and Randy Rogers Band, Williams knows how to connect with listeners and give a memorable show.
Hayden Baker has become a breakout star in the country music industry in just a few years since his somewhat early beginnings of posting cover songs and guitar tutorials to YouTube. Baker gives all he has in each performance, and his website describes his show as full of "country-rockers, high speed train beats, mid-tempo dancing songs, and a few waltzes full of fiddle and steel. Oh, and LOTS of guitar solos." His latest EP "Against the Grain" showcases Baker's talent in storytelling and shows off his skills on the guitar.
Southerns' partial owner Kjohn Johnson says Williams and Baker will perform an acoustic song swap, with each singer taking turns singing their acoustic songs while sharing a stage.
College Station local Ben Kadlecek found his passion for music while attending Texas A&M University. Performing with his band, Kadlecek is fairly new to the country scene but is expecting to release a new EP in early 2021. His EP from 2018, "Brazos County Bound" showcases Kadlecek's vocal talents. This young country singer is creating a path for himself as a serious artist and should not be overlooked.
Showing support to local artists is extremely important to the Southerns establishment. "We try to make sure that all the local musicians get a chance to play here," Johnson says. "Especially for Aggies. We always try to make room for them."
Tickets to see Wynn Williams and Hayden Baker on Nov. 20 start at $7 and Ben Kadlecek's show tickets at $8. Both shows begin at 8:00 p.m.