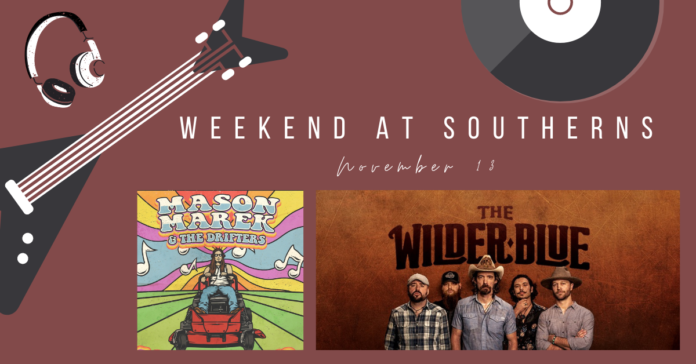 Friday night just got sweeter with Southerns presenting the musical talents of Texas supergroup The Wilder Blue with Mason Marek on Nov.13!
Formally known as Hill Country Band, The Wilder Blue is an up and coming country group that dabbles in different genres, blending country, bluegrass, folk. and acoustic rock. The group is made up of some familiar country music Texans: Zane Williams, Paul Eason, Lyndon Hughes, Sean Rodriguez and Andy Rogers, all of whom had extensive experience prior to joining the band.
Their debut album "Hill Country" was released in May, and in spite of the band's not being able to promote it via live performances due to the pandemic, it has gained notice from other musicians in the genre. Country singer Luke Combs commented on it via Twitter, saying, "I just can't stop listening to this album…the melodies, the harmonies, the instrumentation, and the songs. All just grade A. Y'all check this record out."
Also playing at Southerns on Nov. 13 is singer Mason Marek. Marek started playing around Texas with his grandfather when he was younger, and crafted his skills in songwriting. Using his music to help cope with the loss he's felt in his life, Marek's lyrics showcase his pain and now symbolize "starting a new chapter in life." Marek's latest single, "Mile by Mile," was released earlier this year, the song showcasing Marek's lyrical talents as well as his skills on the guitar. Alongside his band, The Drifters, Marek has hit the top 15 of the Texas Music Spotify Charts and has opened for many well established Texas artists.
Have a fun night with the musical talents of The Wilder Blue and Mason Marek on Nov. 13 at Southerns! Tickets start at $10 and doors open at 7:00 p.m.