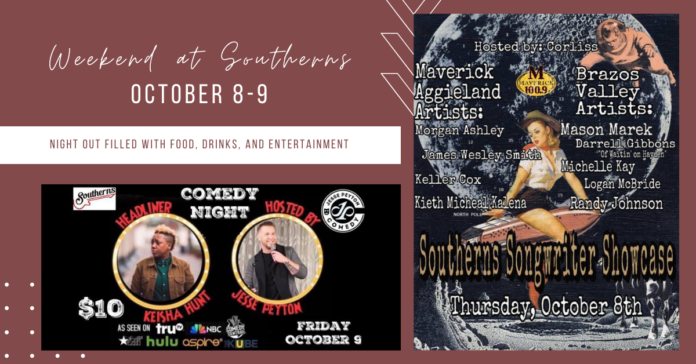 If you're looking for a night out filled with food, drinks, and entertainment, look no further than Southerns, back with not just one, but two nights of entertainment this weekend! Enjoy their Songwriter Showcase on Oct. 8 and Comedy Central's Keisha Hunt on Oct. 9.
The Songwriter Showcase will be a night full of music from local artists looking to spread the word about their music. Enjoy performances from Keller Cox, Logan McBride, Randy Johnson, Keith Michael Kelena, Michelle Kay, Darrell Gibbons, Mason Marek, Morgan Ashley, and James Wesley. Tickets are $5 for the event and the doors open at 7pm.
Comedy Central's Keisha Hunt is making her Brazos Valley debut on Oct. 9 at 8 p.m. Hunt, born and raised in Houston's grim north side, didn't coast to fame with ease. Eventually she tapped into her talent and is now a widely acclaimed comic with appearances on major platforms. In fact, you may have seen this prolific Houstonian comic if you've come across one of her many TV performances on such venerable platforms as Hulu and Netflix. She cleverly retells stories of real life in ways that are mesmerizing and raw with emotion, putting on a show that keeps you hooked all night. Keisha can often be found at a sold out show at Houston Improv or as the "New Face" winner of Laffapalooza. Jesse Peyton is hosting this night of laughs and tickets are $10 at the door. Call Southerns to reserve a table for the night!
Sources:
Comedy Central's Keisha Hunt Headlines @ Southern's in College Station. Presented by: Jesse Peyton