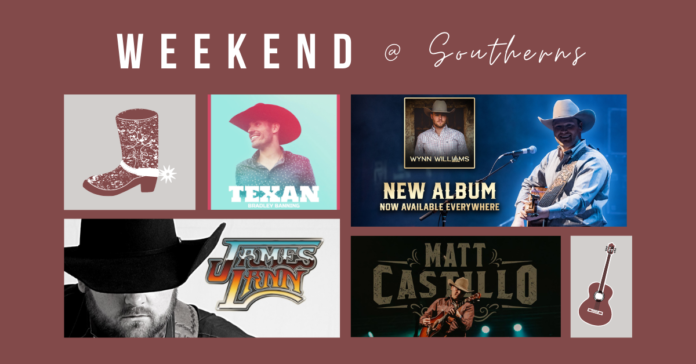 The weekend just got sweeter! Southerns is hosting back-to-back live music performances on Sep. 18 and Sep 19. Enjoy James Lann and Bradley Banning on Sep.18, and Wynn Williams and Matt Castillo on Sep. 19.
As a devoted father and musician, James Lann says that "music is important because it can pull a person through life's hardships." Lann was selected as Texas CMA Artist of the Year in 2016. His latest album, "Everydayers," is full of dance-inducing songs that'll have you two-stepping all night long.
Finding success from heartbreak, Bradley Banning used the money he wouldv've used to purchase an engagement ring to instead buy the equipment he needed to record music. His single "Don't Mess With Texas" reached the top 20 charts of Texas in 2017. In 2019, Banning released his first EP, "Songwriter," and says that "they're some of the most personal songs I have written."
Wynn Williams is a true cowboy, and believes that country music is more than "just a cowboy hat and boots." This former Aggie just released his first self-titled album this past January. Williams has shared the stage with the talents of Josh Abbott, Randy Rogers Band, Parker McCollum.
Originally from Edinburg, Texas, Matt Castillo is leaving his mark all across the state. Castillo is releasing his third album, "How the River Flows," sometime this fall but released his single "Say It" this past June. "We wanted to keep the South Texas flavor, but also to give it a universal vibe that will resonate with a wide range of listeners," Castillo says about the overall sound of his new album.
Don't miss out on these two nights full of country music artists! Each show begins at 9:00 p.m., with tickets being $12 for Sep.18 and $7 for Sep.19. Get a ticket and enjoy a night of dancing to these up and coming country singers!