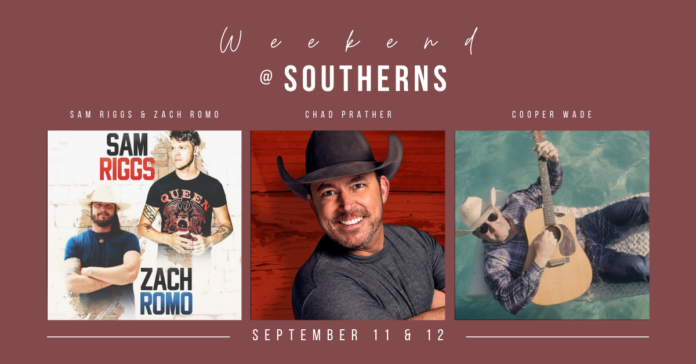 Autumn in a college town is almost always so packed with events that it's hard to decide what to do, and Southerns is making it even harder with their weekend lineups. Here's a rundown of the music and comedy events they are offering for the upcoming weekend.
First of all, on Friday, September 11, you will be treated to a performance from headliner Sam Riggs and opener Zach Romo. The Austin-based Riggs will be playing his daring brand of rock-infused country music, and his nearly 40 million streams across multiple platforms is evidence of his skill as a performer; he's known for his exciting stage presence, after all. Opening for him will be southern rock outfit Zach Romo Band. Tickets are $12, but Southerns does offer military, senior, and first responder discounts for this show, which begins at 8:30.
Next, on Saturday September 12, you will get the chance to have comedians Chad Prather and Cooper Wade laugh your pants off over dinner. Prather has made a name for himself over the past half decade for his brand of political comedy, and on top of performing all around the country, he also maintains a successful podcast. The Houston-based Wade is a multi talented performer who performs well both by himself and with a band, having performed with the likes of Billy Currington, Kevin Fowler and Roger Creagor among many others. As a traveling partner with Prather, Wade is sure to be playing some great comedic music! Tickets start at $25 for the show, and it begins at 6:00 p.m.
While the fall in the Brazos Valley is usually packed with endless opportunities for fun, don't miss this weekend at Southerns!
Sources