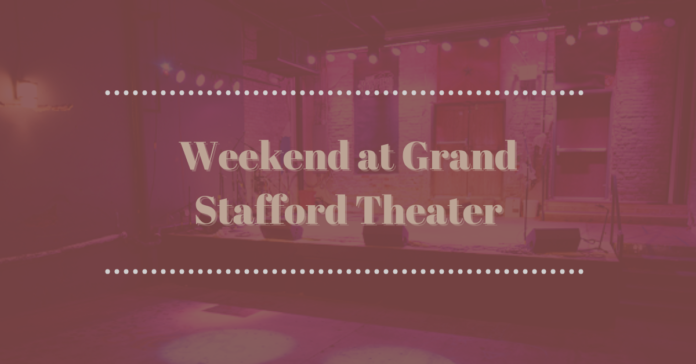 Highlight your weekend festivities at Grand Stafford Theater (GST) this week as they welcome bold artists to the stage. Enjoy Goldpine's captivating harmonies at the free First Friday concert, and jam out to alternative metal with Hindsight and guests Linus, Dead Set Red and Jasper on Saturday. These concerts welcome you to dance, laugh and let loose.
June 3 – Goldpine on First Friday
Married couple Benjamin and Kassie Wilson make up the Americana act Goldpine, formerly known as "My One and Only." The way their voices mesh together and their natural harmony in spirit and vocals will wow you. This songwriting couple sings of love, purpose and pain in heavy tones. They'll excite your ears and win your heart.
June 4 – Hindsight with Linus, Dead Set Red and Jasper
Whether you typically listen to metal or are just looking for a reason to let your cares go, these artists will light up the room for you with their energy. Texas-native band Hindsight uniquely combines 90's alternative rock with heavy metal for a deeply powerful and intense style. You can't stand still when Hindsight's music fills the room!
Dead Set Red formed in Houston recently, making them one of Texas' newest hard rock bands. With a common love for rock and roll and influences from modern rock, the five band members release ear-catching tracks.
Purchase your tickets online for just $10. For both shows, the doors open at 7:30, music starts at 8:00!