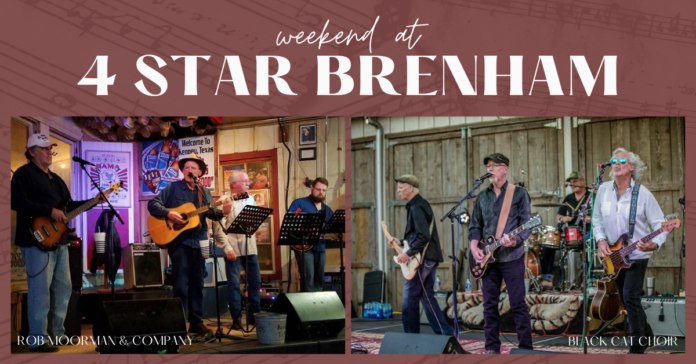 Looking for a fun fall weekend getaway? Spend the weekend of Sept 24 at 4 Star Concert & Dance Hall in Brenham, Texas. With special musical guests Rob Moorman & Company and Black Cat Choir, it's sure to be a weekend worth the short 45 minute drive from College Station. 4 Star is a Brenham classic, since the building's been around for over a century, but it was recently remodeled with all the major acoustic fixings a musician (or concert goer) could want, successfully bringing together an old school feel and new modern renovations. By bringing in lots of live music of all different genres, the 4 star has become a Brenham favorite. With its drink menu full of plenty of brews, booze, and cocktails, you're sure to keep the party going all weekend while enjoying live music.
Rob Moorman & Company's music is easy on the ears and good for the soul. Since they perform lots of covers by artists like The Beatles and Jimmy Buffett, you're bound to hear a familiar song during their set list. Not to mention, with a cold beer in your hand, Rob Moorman & Company is sure to get you swaying to the music.
Originating from Round Top, The Black Cat Choir plays all your favorite classic rock band songs and gives you a blast from the past. With over 20 years of experience of playing shows around Texas, this group of five men will get you singing along to all your rock favorites.
Rob Moorman & Company will be performing at 7 p.m. on September 24, while Black Cat Choir will be performing at 8 p.m. on September 25. Both concerts have no cover, so you can save your money for 4 Star's wide variety of drinks to help you enjoy the weekend.