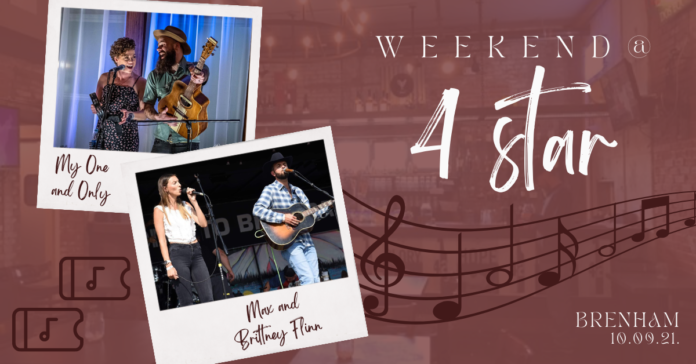 Put on your best pair of boots and your biggest cowboy hat because 4 Star Concert Hall in Brenham will be providing a jam-packed night of country music with the help of My One and Only along with Max and Brittney Flinn on Saturday, Oct. 9, with doors opening at 7 p.m. and music starting at 8.
My One and Only is a country duo made up of spouses Kassie and Benjamin Wilson from Nashville. Their music is a perfect mixture of old-school country, singer-songwriter, and alternative folk-rock. Their great sound, strong singing abilities, and use of emotionally charged lyrics helps create a style they like to call "southern-soul and curious-grit." As their music harkens back to the good ol' days, it also has a definite freshness to it that will remind listeners why country music became so popular and assure them it's going to be around for decades to come. You can check out their latest single, "My Favorite Parts of You," on all major streaming platforms, as well as more tour dates and merch on their website.
Another country couple, Max and Brittney Flinn, are from Houston. Although Max Flinn is usually seen as a solo artist, he's sometimes joined by his wife, giving audience members a special kind of performance not usually seen. Flinn's music is an absolute embodiment of what Texas country is. Great storytelling, whining steel guitars and fiddles all come together to provide a sound that makes it hard to stay off the dance floor. You can expect to hear songs from his freshly released album, "Meant to Be." Listen to the rest of his work on all streaming platforms and visit his website for more touring information.
Tickets start at $10 for non reserved seating and range up to $80 for a reserved table of four in the upstairs mezzanine. You can see all of the pricing options on Eventbrites' website.
4 Star Concert and Dance Hall has been bringing great local and national acts to downtown Brehnam for years and has become a premier destination for a good time. Their open bar offers a great selection of craft beers, wines and cocktails, making it hard for people to want anything more from a great night out.