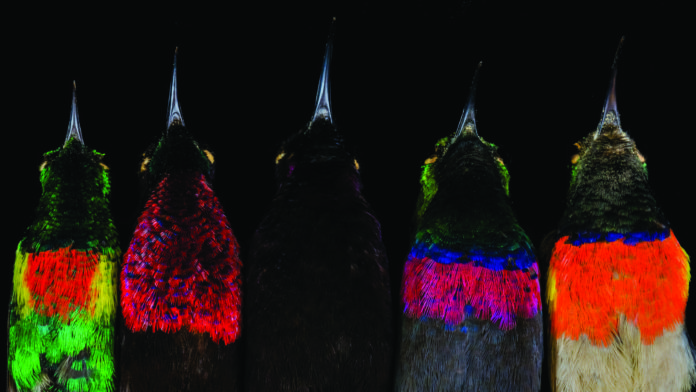 As one of the largest universities in the world, it's virtually impossible to overstate the importance that Texas A&M University has to our local community. It's a treasure trove of learning and innovation. And while entrance into the university affords access to just about any piece of knowledge you may wish to seek, many people are not able to climb those high ivy covered walls, which sadly excludes them from receiving the type of mind-opening education that goes on in the classroom. This is an issue that Texas A&M's Biodiversity Research and Teaching Collections (BRTC for short) is attempting to remedy with their exhibit "Vitality: The Art and Science of an Ornithology Collection," which has its opening reception at the SEAD Gallery on Thursday, Sept 19, at 6:30 p.m.

The BRTC was founded almost a century ago, and according to their website, they maintain one of the largest natural history collections of any American university, which contains "specimens of birds, mammals, reptiles, amphibians, fishes, and marine invertebrates." This collection is clearly invaluable to A&M students and teachers in the fields of natural history and wildlife management, and at the SEAD Gallery, you'll be able to interact with these specimens outside of the classroom. Alyssa Schultz, Science & Special Projects Coordinator at SEAD and PhD student at Texas A&M, believes that this type of extracurricular scientific communication is necessary. "It is so important," Schultz says, "for the community to know and understand the science happening right in their backyard. Oftentimes, scientists get stuck in their science bubble and papers are published, but this is often not accessible to the general community."

The ornithology collection, which is what will be shown at SEAD, is, as Schultz points out, "particularly special because it is the only collection of its kind in the state of Texas." It is a compendium of over 25,000 species of birds from all around the world. Many people, students or not, are notoriously intimidated by the hard sciences, but here is a wonderful chance to interact with the kind of specialized knowledge usually reserved for the classroom. After all, as Schultz succinctly points out, "when scientists are able to communicate effectively with non-scientists, it spreads awareness outside of the science bubble and promotes accessibility to those who have been excluded from that environment."

The SEAD Gallery in Downtown Bryan is the perfect place to host an event like this. The SEAD acronym stands for Science, Engineering, Art, and Design, and they have continuously explored the crossroads between these seemingly disparate subjects since the organization's founding: for example, their gallery is consistently full of innovative art and design, and during the summer, they host camps where children and teens can learn about robotics and engineering. Schultz notes that SEAD's staff is happy to "incorporate different elements" into the shows they put together and is excited about the upcoming Vitality exhibition because the staff will get to "harness these ideals and make them a reality."

This is a once in a lifetime opportunity to be able to plunge yourself into the subject of ornithology without having to be a student at Texas A&M. If you're interested in checking it out, the opening day of the event is Thursday, September 19, at 6:30 p.m. The exhibit will be on display until November 21, so make sure to stop by sometime this fall.
If you want to learn more about this event, follow this link: http://bit.ly/2kemul0 Also, If you're interested in learning more about the BRTC's almost century long history, you can check out their website right here: http://bit.ly/2kHTulY