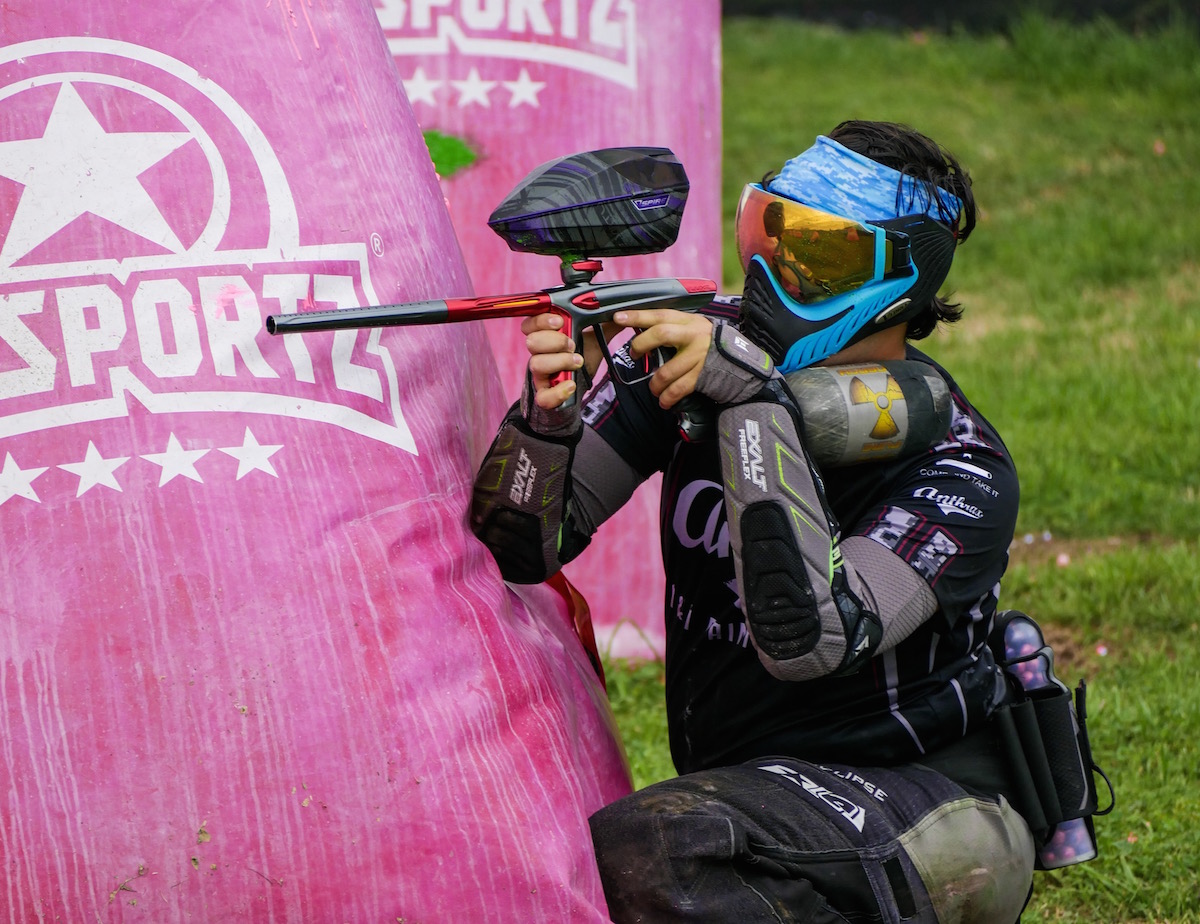 With summer just around the corner, many are looking for new and exciting activities, and what's more exciting than getting to have some friendly competition in a video game brought to life? This is what brothers Ryan and Taylor Thompson had in mind when they decided to open their own paintball range. They experienced the sport once and decided that the BCS Area should have access to the sport as well. In 2010, the brothers opened Zoomz, and in the 9 years since, it has become a hot spot for those hosting parties, competing in challenges, or just having good fun.
Zoomz has been at its current location on Linda Lane in Bryan for two years now. Inside, there are arcade games as well as concessions available. However, the real fun happens outside. Zoomz offers 5 different playing fields open to paintball, laser tag and airsoft. With themed fields and plenty of obstacles, including bus and car shells, the fields are designed to give players a fun and challenging experience. Zoomz has an extensive inventory of equipment, including specialized guns for different ages and skill levels, as well as smoke grenades, paint grenades, and other ways to make the game more interesting.
Although Zoomz is home to competitive teams like the A&M Paintball Team and the Brazos Bandits, co-owner Ryan Thompson advises that this is a sport that anyone of any skill level can play. Thompson wants to break the fear that newcomers have of paintballing being difficult or painful. He advises, "Don't let people's bad stories spoil the experience. Getting over the fear is the hardest part. As an industry, we are getting rid of the stigma that paintball hurts. It's fun once you try." With Zoomz's equipment and packages designed for lower skill levels, it's clear that you don't have to be an expert in order to enjoy the sport.
Zoomz hosts public play on the weekends and private play for those who make reservations during the week. Thompson notes that besides just having a good time, reserving a private party is a great way to bring any group, team, or organization closer together. "It's good for teambuilding if you had a group that wanted to get better as a team. Teams that communicate more are the winners. It's an adrenaline rush and a great way to blow off steam." Zoomz also offers events, including their annual Zombie Event for Halloween, where players can hunt live glow in the dark zombies on the playing field! No matter the occasion, players are sure to have a fun and adrenaline-filled experience.
The Thompson brothers' experience with the business has been a challenging but rewarding one. While discussing his experiences starting the business, Ryan notes, "It was a whole new world of learning the business, but it's so gratifying when you have kids who say, 'This is the best party I've ever had.'"  Now, Zoomz is a respected and loved place where people of all ages and skill levels can come together and have great time. So, as the Thompson brothers encourage, put down the video game controller and experience the game in real life!
For more information or to make reservations, visit: http://www.zoomzpb.com.
Show this article to get $5 off any rental package next time you play!
Photos courtesy of Jared Overton.