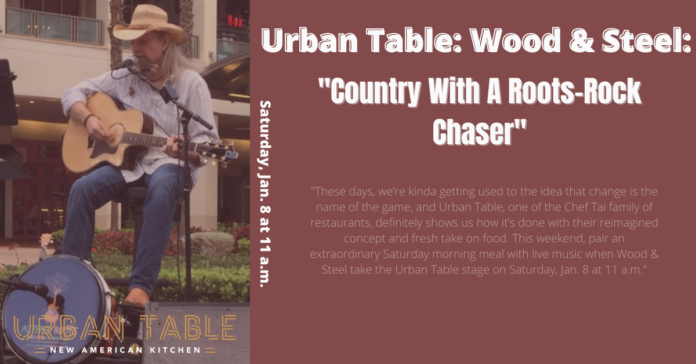 These days, we're kinda getting used to the idea that change is the name of the game, and Urban Table, one of the Chef Tai family of restaurants, definitely shows us how it's done with their reimagined concept and fresh take on food. This weekend, pair an extraordinary Saturday morning meal with live music when Wood & Steel take the Urban Table stage on Saturday, Jan. 8 at 11 a.m.
Here in Aggieland, Chef Tai is known not only for his exceptional food but also for his ability to reinvent the local restaurant, providing new flavors and concepts that are cutting edge. Urban Table, his newest invention, is a two level restaurant that provides a bar setting on the upper floor with the main restaurant below, and even has a patio area for the kids to move around in. It's both ultra chic and completely homey at the same time.
Making it even better this Saturday is Wood & Steel, led by native Texan Kenny Karr, who describes himself as a "Guitar Playin', Foot-Drum Stompin', Harmonica Blowin' Singer/Songwriter." In the music industry for over 30 years, Karr created Wood & Steel in 2019 after recognizing he wanted to focus solely on his own act with his duo partner, Sarah Cass.
The group plays a variety of genres, including classic rock, country, folk, blues, and Americana. Each is carried off with a unique style, creating an unforgettable experience for listeners, hence the moniker, "country with a roots-rock chaser."
This Saturday, relax and unwind with Wood & Steel over items from Urban Table's Brunch Menu. Start off with a specialty Mimosa flavored with amaretto or a Bloody Maria made with Ghost Pepper Tequila before diving into a classic breakfast item or one of Urban Table's sandwiches, or soup and salad.