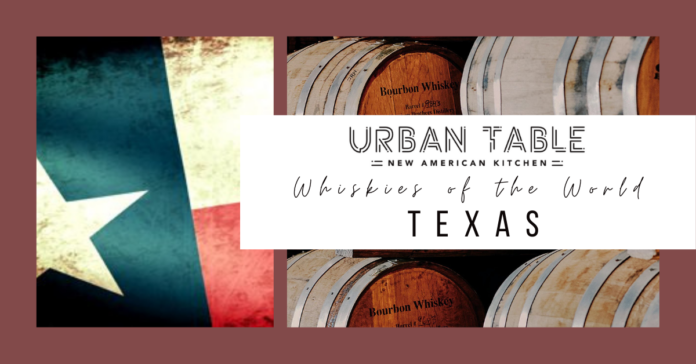 We arrive at Urban Table's final whiskey tour destination by coming back home—to Texas! After hosting whiskey tasting nights featuring flavors from Ireland and Japan, Urban Table is wrapping up the three part series of events on Tuesday, Sept. 29 from 6-7:30 p.m. If you are of legal drinking age and interested in a chance to safely try something new, check out this opportunity to become quite well versed on your Texas whiskey!
Texas whiskey is no exception to the phrase, "Everything's bigger in Texas." Attendees of the event will experience the boldness of Texas whiskey while learning how it became popular, the unique effects of our Texas climate on whiskey, and the many finishes Texas distillers are experimenting with in their labs.
A decade ago, there were only two whiskey distilleries in Texas. Today, sales are booming, providing world renowned age-old whiskey with some fierce competition. Despite being less than 10 years old, Texas whiskey tastes much older. According to Texas Monthly, the intense heat and wide temperature swings of the Texas climate impart flavors worth years of aging in a mere few months. As the number of Texas distilleries grows, so does the fame of the whiskey. So much so, top consultants are starting to take note.
Guests have the privilege of learning from fine spirits consultant Carl Ivey of TX Somm while enjoying a flight of three different whiskeys and cleverly complimented small plates. Additional craft cocktails and whiskey pours will be available for purchase.
The event's tickets are $60 and are available for purchase on Urban Table's website. Refunds are allowed 72 hours before the event. Urban Table will be practicing safe social distancing and all guests will have their own tables. Per Governor Abott's orders, they ask that you wear a mask at all times unless seated at your table. Attendees must be 21 years or older, as photo ID will be checked at the door.
Sources:
Urban Table – New American Kitchen – College Station Restaurant
Urban Table – Whiskey Tasting Events