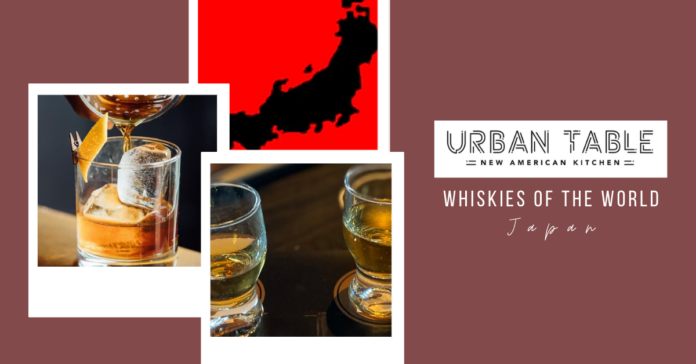 On Tuesday, Sept. 15, we continue the Whiskies of the World tour at Urban Table, this time in lovely Japan! From 6-7:30 p.m., patrons will be able to enjoy some socially distant fun while learning about the influences on the Japanese decision to distill whisky.
Japanese whisky sets itself apart in a few ways, first in the manner it's made. Japanese whisky is double distilled, leading to a smokier taste. Additionally, the ingredients are typically imported from Scotland, but while the Scottish focus on a consistent taste, the Japanese aim to refine. This Urban Table event is quite special, because according to Men's Journal, Japanese whisky is harder to find than whiskies of other regions and is regarded as more of an art form rather than simply a liquor.
Leading the evening is the knowledgeable Carl Ivey of Tx Somm. Ivey's presentation will dive into the history of Japanese whisky as well as tell the story of industrial revolution, romance, innovation, and culture. During the presentation, guests will be served a flight of three different whiskies along with skillfully paired hors d'oeuvres. Additional pours and cocktails will also be available for purchase.
Tickets for the evening are $75 and available for purchase on the Urban Table website. To attend this event, guests must be at least 21 years-old as photo identification will be checked at the door. Per the order of Governor Abbot, masks must be worn when moving about restaurants but can be removed upon seating. Additionally, to ensure the safety of everyone, Urban Table is limiting capacity and prioritizing reservations. For this specific event, multiple tables will be utilized for groups of four guests.
Urban Table offers a variety of events, so be sure to check their Facebook page periodically for updates. Along with the Whiskies of the World series, Urban Table will also be hosting Fall Cookie Decorating classes led by Catherine at Busha's Custom Cookies starting this month. Some previous Urban Table events include Sunday Brunch and Working Women's Wednesdays!
Sources:
Urban Table – New American Kitchen – College Station Restaurant
Urban Table TX – Events – College Station, Texas – Menu, Prices, Restaurant Reviews