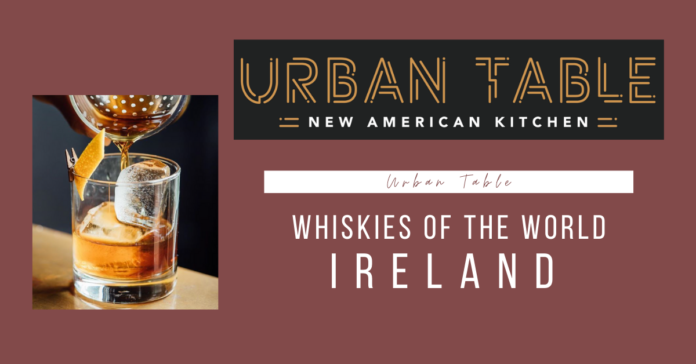 If you are at least 21 years-old and looking for some socially distanced fun, Urban Table is continuing a fun series this month that might be of interest to you! Come out and enjoy the Whiskies of the World tasting event on Tuesday, Sept. 1 from 6-7:30 p.m.
This exciting series of events features whiskey from a new region every Tuesday through Sept. 29. Enjoy the next session of the worldwide whiskey tour with a trip to beautiful Ireland… mentally anyway! Throughout the event, patrons will gain knowledge from Carl Ivey, of TX Somm, about the differences between whiskies of various regions. Ivey will also discuss the Irish impact on the modern distilling process while attendees sample from the three major Ireland producers. During the evening, guests will be served expertly paired light hors d'oeuvres and will have the opportunity to purchase additional craft cocktails and whiskey pours.
While the exact origins of whiskey are unknown, it is widely accepted that the liquor made its debut in Ireland during the Middle Ages. Irish whiskey is unique to other countries that distill whisky in a couple of key ways, the first of which being the spelling. Irish whiskies can be identified through the "e" at the end of the word, whereas Canadian or Scottish whiskies will omit the letter. Additionally, Irish whiskey is typically triple distilled, instead of double, which creates a unique flavor. According to Whisky Advocate, the third distillation "concentrates a particular fraction of aromatic and flavorful compounds, which results in a smoother taste and a subdued finish." Finally, whiskey made in Ireland is a blend of malted and unmalted barley instead of strictly malted. The reason for this is to be able to taste more of the grain itself.
Tickets for the evening are $55 and are available for purchase on the Urban Table website. To attend this event, guests must be at least 21 and photo identification will be checked at the door.
Per the order of Governor Abbot, masks must be worn when moving about restaurants but can be removed upon seating. Additionally, to ensure the safety of everyone, Urban Table is limiting capacity and prioritizing reservations. For this specific event, multiple tables will be utilized for groups of four guests.
Under normal circumstances, Urban Table always has a wide variety of events to choose from, so be sure to keep up with them on Facebook and Instagram for added events! Some previous events Urban Table has hosted include Ladies Night Out, Football Watch Parties, Patio Parties, Working Women's Wednesdays, Sunday Brunch with DJ Rob, live music and more!
Sources:
Urban Table – New American Kitchen – College Station Restaurant
UrbanTable (@urbantabletx) • Instagram photos and videos
Urban Table TX – Events – College Station, Texas – Menu, Prices, Restaurant Reviews
Smithsonianmag – Know Your Whiskey from your Whisky