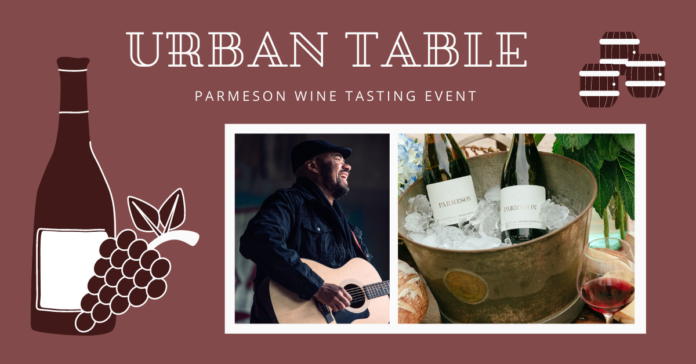 Calling all wine lovers! Come out to Urban Table for the Parmeson Wine Tasting Event and hear from winemaker Tom Parmeson himself! On Thursday, Jan. 28 starting at 6:30 p.m., guests will have the chance to taste the wines of the night paired with hors d'oeuvres from Urban Table.
Former Aggie and winemaker Tom Parmeson will guide guests through his wines and share the story behind each of them. Tom fell in love with winemaking in 2005 and recently took the plunge into opening his own winery in Dripping Springs, Texas, in Summer 2019, bringing everything he'd learned in Sonoma County to the Texas Hill Country. The beating heart behind Parmeson Wines is simply to create something that people enjoy.
The Parmeson wines featured at the event include rosé, chardonnay, pinot noir, and a cabernet sauvignon, each of which will be paired with light bites to complement the flight. Just some of the hors d'oeuvres that will be served include spice-crusted seared tuna, potato-wrapped cod with wild arugula, oven-roasted mushroom stuffed leg of lamb, and red wine beef braised short ribs.
Additional wine pours will be available for purchase at the close of the event. Guests are welcome to make their way over to the bar and lounge area and enjoy a live performance by local Americana musician Joey McGee.
Tickets to the Parmeson Wine Tasting are available for purchase for $62 (gratuity included) and seats are limited. Tickets can be purchased on Urban Table's website at this link. More information about refunds and ticket transfers can be found on their website as well. Guests under the age of 21 are not permitted to attend and will not be given a refund. Social distancing will be enforced and masks are required when entering and exiting the event.
Sources: