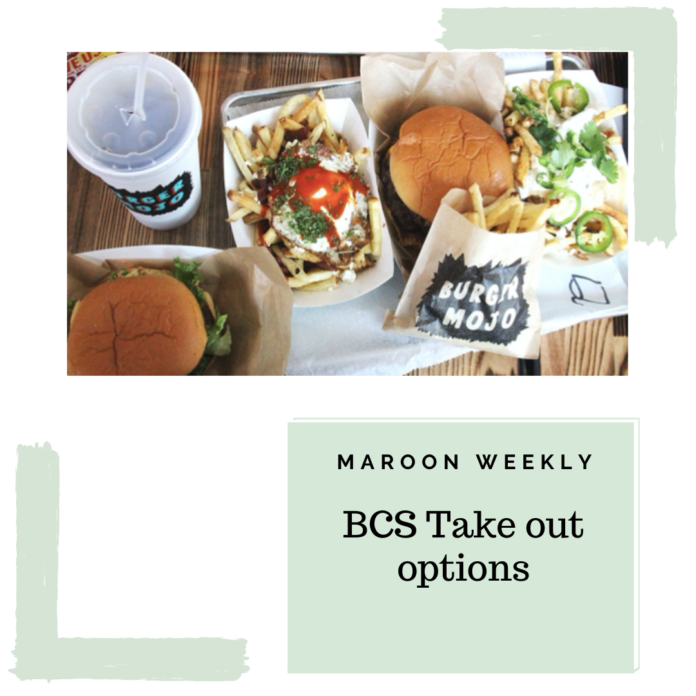 Are you growing restless cooking the same things for dinner over and over while you're stuck at home? Interested in supporting local business too? Everyone is facing significant lifestyle and routine changes right now, especially owners and employees of local businesses, and it's hard to keep up with all the changes. To help with the constant "what's for dinner tonight?" dilemma, here are a few restaurants in Bryan-College Station you might not have thought of that are open for limited seating or offer pick up and delivery services.
Burger Mojo
How to order: drive-through (averages about 4 minutes). Order on the Favor app, or dine-in (following state-mandated requirements).
Burger Mojo opened earlier this year in January and has taken off since. Their menu features several affordably priced burgers such as the Lovestack Cheeseburger (includes an egg on top), The G.O.A.T. (topped with goat cheese), and the PB Cool J (a patty sandwiched between PB&J bread), to name a few. Or opt for their classic cheeseburger, the Mojo. You can't go wrong, and here's the best part about Burger Mojo- they are open "25 hours, 8 days a week." Need a meal to get you through your late-night Netflix marathon? Burger Mojo's got you covered. https://bit.ly/3bd9kt1
Texas Roadhouse
How to order: on their website, app, or by phone. Pick up using their curbside to-go service. Dine-in with limited seating.

Texas Roadhouse's College Station dining location is back open. They are taking walk-ins with limited seating, so they recommend arriving early! They cannot accept parties larger than six, and have slightly limited hours as well. In addition to their offering their full menu for dine-in, Texas Roadhouse is also open for Curbside To-Go. If you're craving a classic home-style meal, Texas Roadhouse is a great option. The menu is jam-packed with steaks, country dinners, and delicious sides.
https://bit.ly/2yEFPmx
Chicken Salad Chick
How to order: on their website, app, or by phone. Pick up using curbside pickup, community drop-off (delivery), or dine-in (following state-mandated requirements).

Chicken Salad Chick, new to College Station in the last year, serves a variety of chicken salads while priding themselves on their atmosphere of a neighborhood place for friends and family alike. They are open for pickup orders and also offer catering! In addition to 14 different styles of chicken salad, they also offer soups, salads, and pimento cheese. Some of their chicken salads worth trying are the Barbie-Q, Fancy Nancy, and Lauryn's Lemon Basil, featuring flavors of hickory-smoked BBQ, fuji apples, and lemon, respectively.
https://bit.ly/35Kfq34
Mr. G'S Italian Pizzeria
How to order: by phone, takeout, delivery through Favor or Doordash apps, or dine-in.
Mr. G's Pizzeria, located in Downtown Bryan, was started by Mr. G himself in 1994. They import cheese weekly from Italy and feature only the freshest ingredients in their recipes. Some of their most noteworthy menu items include hand-tossed pies, homemade sauce, and calzones. Mr. G's is definitely a must-try in the B/CS area, and right now is no exception.
https://bit.ly/3cfYFyS

Piada
How to order: in-store carry out, online, Grab & Go, and delivery orders.
Piada offers a variety of fit bowls, piadas, and tossed pastas. The Italian street food kitchen is located in Century Square and is now offering free delivery when you spend $10 or more until May 31. They've added family meals and take-and-bakes to their menu to make meals quick and easy for your family. Piada is helping the community by offering a free kids pasta with a fountain drink from 11 a.m. – 1 p.m. through May 31st. Check out their website for more details. https://bit.ly/3duhCyj