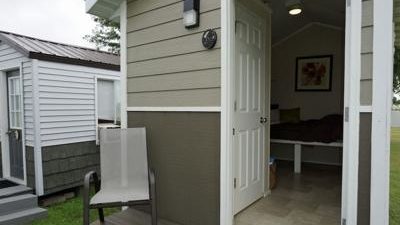 First Friday in Downtown Bryan is a charming community tradition, appealing to both locals and out-of-town visitors. This upcoming First Friday, on Sept. 6, will be a particularly special one for local nonprofit Tiny Hope Village, which is hosting a fundraiser at Square One Event Center & Loft during the festivities. This kid-friendly event from 6-9 p.m. will feature food, drinks, a silent auction and live music from artists such as Joey McGee and Jessica Lemmons.

One year ago, Tiny Hope Village hosted a similar party when they were newly launching the organization, which is aimed at ending homelessness in the Bryan-College Station area.

"We are pretty well connected with homelessness in the area," said Executive Director Dan Kiniry. "We have a lot of friends who've been living on the street, staying in cars, staying in cheap hotels, and those relationships inspired us to form Tiny Hope Village."

Tiny Hope Village is aimed at purchasing land and cultivating a village of tiny homes to house homeless folks in the area. One of the big points Tiny Hope Village emphasizes is that this isn't a transitional housing program; the homes are meant to be permanent housing to offer a sense of security for future tenants.

Tiny Hope Village just recently found seven acres of land they intend to purchase to kickstart their tiny home community, so expect their upcoming fundraiser to double as a celebration! However, they still need money to buy the land this fall.

"We're still a few thousand dollars short, and we have until Nov. 21 to raise the money," Kiniry said. "We need to pay cash on the land, so we're kind of in the crunch time."

It's important to note that though Tiny Hope Village has a Board of Directors, none of them are paid a salary. In the words of Kiniry, "any money someone gives to us, they're literally buying land."

The Tiny Hope Village fundraiser will take place on Sept. 6 from 6 p.m. to 9 p.m. as a come-and-go part of First Friday, but if you can't make it, bids for the silent auction will also be accepted via the THV Facebook page.
For more information, visit: http://bit.ly/2HtApvP