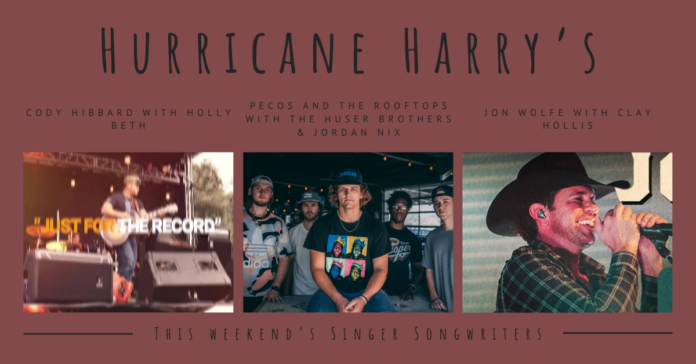 This Thursday through Saturday, Hurricane Harry's opens its doors at 9 p.m. to welcome you! Even though the experience looks a little different this year, Harry's retains its Southern charm and community-centered comfortable atmosphere.
Thursday, Feb. 11 – Cody Hibbard with Holly Beth
Cody Hibbard kicks the weekend off with his heartfelt songs in classic country style. His over 100,000 monthly Spotify listeners, you know he's gonna be good. His YouTube channel features some of the music coming soon to College Station as lyric videos, music videos, and live performances.
Opener Holly Beth's music style reflects her confident personality. With her first two singles garnering a total of over 500,000 streams, it's clear her music career has only just begun. Tickets cost just $10.
Friday, Feb. 12 – Pecos And The Rooftops with The Huser Brothers & Jordan Nix
As four close knit long-time friends, Pecos and the Rooftops have a chemistry on stage that's sure to get you dancing in your seat. They just released their most recent E.P. "Red Eye" on Jan. 24.
The Huser Brothers' original music is inspired by soul, Blues, Rock and Country, combining into a distinct sound. Jordan Nix's originals have become known for their lyrics highlighting love and faith. General seating tickets cost $20, with upper, low, prime and VIP as additional options.
Saturday, Feb. 13 – Jon Wolfe with Clay Hollis
With his boots firmly rooted in country tradition and a heart for storytelling, Jon Wolfe prides himself on being a country singer songwriter. When you hear him sing, you learn his life story from small town to big city. With a passion for music and storytelling like his, Wolfe gives a uniquely personal performance.
Clay Hollis's originals leverage his rich vocals and appreciation for honky-tonks. From slow burner to fast paced, Hollis blends '90s with modern style to captivate audiences. Like Friday, tickets start at $20.
Tickets for each are available on Etix. Shows are all seated only with no standing room. Be sure to get your tickets early, as seating is limited per Covid-19 restrictions.