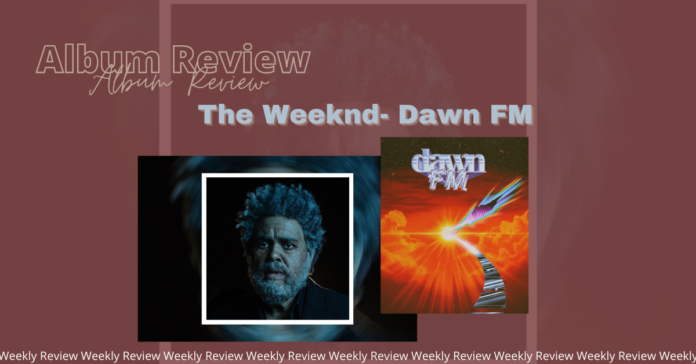 Released on Jan. 7, "Dawn FM," The Weeknd's new album, has everyone talking. The Weeknd, also known as Abel Tesfaye, is a Canadian native most known for his work in the 50 Shades of Grey Soundtrack, where he sang about lust and sexuality. He isn't afraid to push the boundaries of music, using sex, death and drugs, and "Dawn FM" is a perfect example of that.
A concept album, the songs on "Dawn FM" reflect the common theme of the struggle of life and death. Although this album focuses on darkness, fears and death, the catchy tunes and dancing energy hide the ominous meaning behind the lyrics.
"Dawn FM" was written to mimic an adult radio station, where the first track, "Dawn FM," features a man's voice speaking in radio style cadences. The purpose of the radio theme is to make listeners feel as if they are driving through the dark tunnel of purgatory toward the "light" of death. The track starts with the lyrics, "You've been in the dark for way too long. It's time to walk into the light. And accept your fate with open arms." Frightening? Yes, absolutely. But incredibly written.
Certainly a lyrical genius, The Weeknd had the musical help of popular musicians Tyler The Creator and Lil Wayne, who were featured in the songs "Here We Go… Again" and "I Heard You're Married." Both songs revolve around the pain of loving an emotionally unavailable woman that breaks your heart. The combination of these artists create a pop, rap, and R&B ambience that is sure to grab listeners' attention and help tell the album's story.
The way that The Weeknd is able to articulate the common fear of death and the hardship of life through his music is both eloquent and gifted. So there's no surprise he's won three Grammy Awards and has had 11 Platinum songs in the last five years. Although brand new, "Dawn FM" is already a successful album, reaching listeners all over the world.