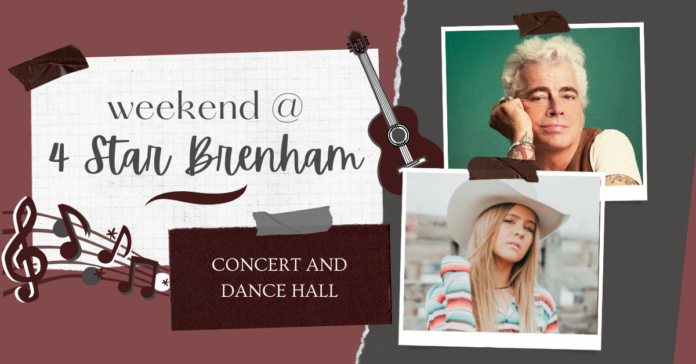 Founded by John Elford, 4 Star Concert & Dance Hall in Brenham has been bringing people together with live music and drinks since 2018. Originally housing a horse-drawn carriage manufacturer in the late 1800s and then serving as a laundromat in the 1900s, the building is now a state of the art music hall, complete with a tavern, sidebar, and outdoor seating. On top of that, its stages are often occupied with musicians from near and far, performing anything from blues to rock and roll, from country to Americana and more. Check out what's in store for you this weekend:
Dale Watson and His Lonestars
On Friday, May 28, the venue will be hosting the country group Dale Watson and His Lone Stars. The show starts at 8 p.m. and ticket prices range from as little as $20 up to $120, depending on what type of seats you're going for.
Watson strives to preserve the traditional roots of country music, even being the first to identify the ameripolitan genre to separate "real country music" from what mainstream country has become. This genre is described best by its three categories: honky tonk, rockabilly and western swing. Watson compares his music to that of Johnny Cash, Willie Nelson and Waylon Jennings.
His Lone Stars, Watson's touring band, is made up of three musicians. We have Don Pawlak with a pedal steel guitar, Mike Bernal on drums and Chris Crepps playing upright bass with accompanying vocals. Together, the group has been playing across the United States, bringing traditional country music with them.
Mikayla Lane
On Saturday, May 29, 4 Star will feature Mikayla Lane with accompaniment by John Conrad. This show will run from 7-10 p.m. and tickets are $10 for general admission.
A 16-year-old singer-songwriter, Lane describes her latest original music as giving a glimpse into her own life using "a western vibe with modern tones," and will be playing some of her latest original songs during her set. She may only be 16, but her powerful voice and way with lyrics will definitely take her to the top.
During the 4 Star show, she plans on debuting some brand new songs to get the audience's help in deciding which ones should be featured in her next release. "I'm planning to release a new EP in June, so I'm especially excited to have the opportunity to share my new songs with a live audience," Lane says. "So please come out to the show and let me know what you think!"
As well as these original songs, Lane plans on covering some 90s country songs along with some newer tunes. Overall, she's created a setlist curated for all ages and is excited to share it with a community she's never played for before.
"I love meeting new people and making connections in new places," Lane says. "We've prepared a great setlist that we think will have a little something for all preferences falling under the country/Texas country labels."
Don't miss the chance to watch this young performer rise. You can give Lane a listen on all major streaming platforms.
4 Star info: [https://www.4starbrenham.com/aboutus, https://insitebrazosvalley.com/4-star-concert-hall-a-rising-star-in-local-entertainment/]
Watson ingo: [https://www.ameripolitan.com/copy-of-home , https://www.dalewatson.com/about , https://www.eventbrite.com/e/dale-watson-and-his-lonestars-tickets-153483426059 , ]
Mikayla info: [https://drive.google.com/file/d/1g_xNLMoBDpDG37-kxJrO2DXivEn1G9V4/view?usp=sharing, https://www.dropbox.com/s/0kv8i6566gsiwan/Photo%20Feb%2028%2C%2012%2011%2017%20PM.jpg?dl=0, https://www.mikaylalanemusic.com/, https://www.eventbrite.com/e/mikayla-lane-tickets-153536300207]