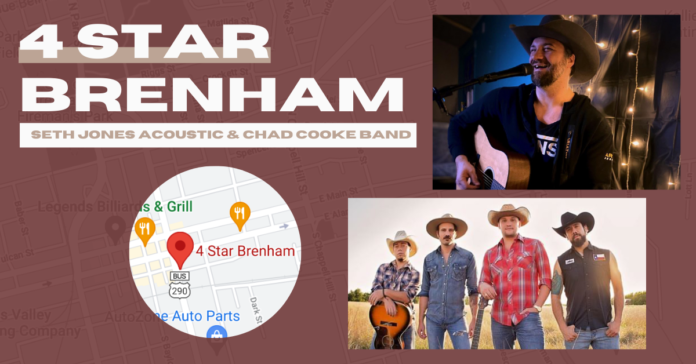 With summer beginning to wind down, a minor case of the summertime blues are almost inevitable. Need a cure? Take a trip down south to Brenham for the weekend and head out to 4 Star for another great lineup of Texas brand country music!
Seth Jones Acoustic, August 6, 8-11 p.m.
East Texas native Seth Jones will be taking the stage Friday for an acoustic set featuring hits like "Puzzle Man" and "Whiskey Attitude." No stranger to the life of a working man just trying to pay the bills and make it home for the weekend, Jones has worked in hardhats, medical scrubs, and just about every other attire in between. And because of this, he's gathered a unique set of experiences that help give his songwriting a personal touch. It's easy to hear his musical influences in his own songs as he draws inspiration anywhere from Texas rockers like Old 97s to country legends like Waylon Jennings.
A GA ticket costs $5, while a seat up in the mezzanine will run you $10. But if you're looking for a whole night out of it, come out early for Happy Hour from 5-7 p.m.!
Chad Cooke Band August 7, 8-11 p.m.
Houston 4-piece Chad Cooke Band is set to be under the lowlights on Saturday to bring another classic performance. These country crooners have set a path across the U.S. with their three and four part harmonies topped with a rugged rock-n-roll edge, delivering a sound that has set them apart in the country music scene. With songs like "Oil Man" amassing millions of streams since their debut album released back in 2016, the group has ridden a wave of momentum. And the momentum continues with their latest single "I Wanna Go Out," which is garnering well-deserved attention.
GA tickets are $10 while table reservation packages for up to 4 guests are available for $60 – $80.
Tickets for both shows can be found here. Get out of the BCS area for a day or two and explore the historic city of Brenham! Just don't forget to catch these two shows!