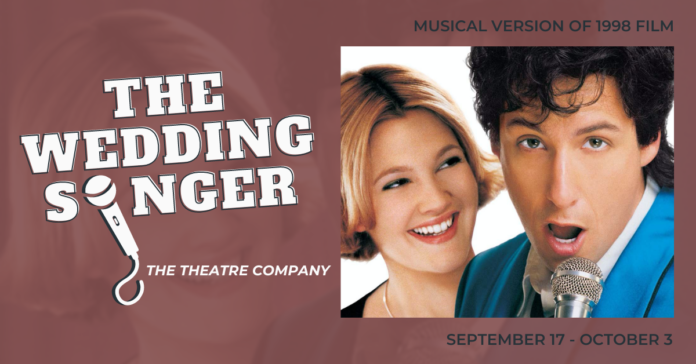 Sometimes all that's needed to boost a bad mood is some colorful 80s charm, and the 1985 world of "The Wedding Singer" is a great place to start. This weekend, The Theatre Company of Bryan College Station (TTC) will be taking on the musical version of 1998 film, "The Wedding Singer" starring Adam Sandler. Catch a performance of this classic while it's on TTC's stage, all the way from its premiere on September 17 through its final curtain call October 3!
If there's one thing to note about Adam Sandler movies, it's the notoriously low ratings they tend to receive from critics despite being fan-favorites. Yes, some of his movies have actually scored a flat out zero on Rotten Tomatoes. One exception to this trend is "The Wedding Singer," which earned the bragging rights of being his highest rated comedy, even over "Happy Gilmore." The film was such a success that a musical adaptation emerged in 2006, went on to hit the stage of Broadway and collected five Tony nominations.
True to the Sandler film it's derived from, the musical adaptation of "The Wedding Singer" follows the storyline of Robbie Hart, a broken-hearted wedding singer who was recently dumped at the altar. Things get interesting when he crosses paths with Julia, a young bride-to-be who charms Robbie into helping her plan her own wedding. With their undeniable chemistry, he falls hard and fast, leading the two into some chaotic, frustratingly funny and at times, heartwarming situations.
The Theatre Company performances are located at 3125 S. Texas Ave., Ste. 500 in Bryan's Tejas Center, right behind Joann Fabrics. TTC offers evening performances on Fridays and Saturdays at 7 p.m. as well as 2 p.m. matinee shows on Saturdays and Sundays. Ticket prices vary by age, show time, and student status but never go above $20. Take a glance at your calendar and book your tickets before October 3 here!