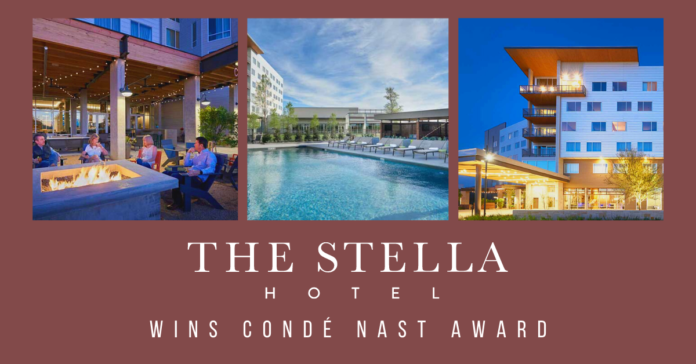 When visitors plan to see Texas, it's not surprising that Houston, Dallas, Austin and San Antonio lure them. With major cultural events, a broad base of attractions, and big city resources, its no wonder visitors include Texas' big four. Now, thanks to The Stella Hotel making #3 on Condé Nast Traveler's Top 20 Hotels in Texas list, Bryan-College Station has gained another gold star.
Earned by the votes of previous guests, the reader's choice list is truly special. Public Relations Manager Erica Alcala says that this win is huge since The Stella was the only property on the list that wasn't located in a major city. "This continues to put Bryan-College Station on the map as a location that can host an array of events," Alcala says.
Built in 2017, The Stella Hotel has not only left a lasting positive impression on guests but on the BCS community as well by hosting free events on the property and helping local businesses showcase their products and services. "The Stella Hotel and the Lake Walk area are both special because it's not just for our out of town guests but also for our community to enjoy," Alcala says.
Located next to the Lake Walk, The Stella hosts events such as The Local, a local farmer's market and fitness events, including community yoga on Saturdays. The trails along Lake Walk lead to stops for specialty coffees at P.O.V., for dinner at the hotel's restaurant Campfire or for craft cocktails at Hershel's. Another unique feature of the location of The Stella Hotel and Lake Walk is the outdoor pavilion, which even during the pandemic can safely host summer concerts in front of Lake Atlas.
"We hope that more people will see what a great community we have, not just the facilities and the top-rated educational institutions but the amazing people that live and work here in the Brazos Valley," Alcala says. Winning this award is special to the hotel since it's based on guests' votes, Alcala says, and earning such a high spot on the list reflects the hard work the staff of The Stella has put in, especially during the hard times of the pandemic. "Yes, we have a beautiful property and hotel, but without an amazing staff, we would not see these types of accolades and see so many happy guests," Alcala says.
Condé Nast Traveler is a world-famous magazine that publishes the best places to travel around the world. Learn more about Condé Nast and what other locations earned a spot on the Top 20 Hotels in Texas: Reader's Choice Awards 2020.