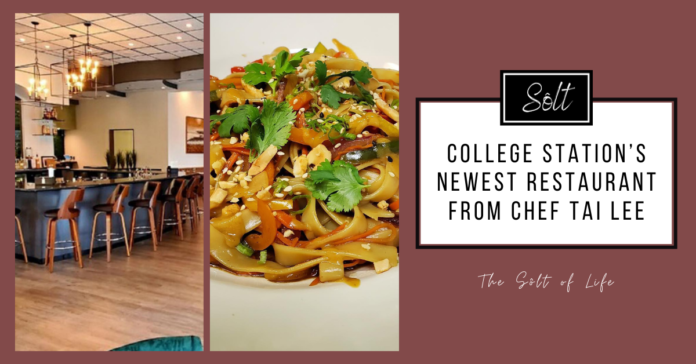 In the midst of uncertain circumstances, great food can be a great comfort. College Station's own Chef Tai Lee has come up with a perfect response for the trying times we're in by opening Sôlt.
Sôlt is Chef Tai's brand new, "polished casual" restaurant, and it's a must try right now! As a College Station local, Texas A&M alum and reputable chef, Chef Tai knows BCS and knows all about successful food establishments—after all, Sôlt is one of five different restaurant concepts managed and operated by Chef Tai in the BCS area—including Madden's, Paolo's, Urban Table, and Mobile Bistro.
Many of us were saddened with the announcement of the closing of Chef Tai's Veritas Wine & Bistro in August, but as times have changed, it became clear that the space needed to be transformed into something new, which is where Sôlt was born.
Sôlt, a phonetic spelling of the word "salt," was thoughtfully chosen by Chef Tai for this new restaurant concept. "We always wanted to be salt of the earth kind of people, and salt has been historically a very important part of civilization and the advancement of cooking. So, we wanted to use the word SALT in our trade name," Chef Tai comments, "but the only trouble was that salt is a common noun." Chef Tai wanted to give it a different twist, as he always does on all of his restaurant concepts.
The atmosphere of Sôlt feels at once urban yet comfortable and "was designed," Chef Tai says, "with the new changing dining needs in mind. We call it a 'polished casual' restaurant." Sôlt offers high quality ingredients and wonderfully prepared dishes that you would expect from a high end restaurant with a more fun and less intimidating setting.
The creative menu features tempting appetizers such as candied bacon and crab cake fritters, and both dishes take a simple food and elevate them into a fanciful starter that makes your mouth water more for the next course. "We were also able to bring the overall price down by making things more streamlined and casual in approach, while maintaining the same great quality," Chef Tai shares. Entrees include indulgent seafood, steaks, and exceptional complimentary side dishes like the poblano mashed potatoes (to die for) and the roasted broccoli.
"Sôlt is the culmination of everything we know about the restaurant business," Chef Tai comments. "It offers the best combination of food and service that you can expect in any of our restaurants, but with a more updated interpretation of modern American Cuisine and Handcrafted Cocktails."
Sôlt prides itself on unique infusions and craft drink menu that can't be found anywhere else. "Each of our restaurants has developed its unique theme and strengths, and we keep building on top of that. Sôlt has the unique advantage of combining all of our best knowledge and putting it into the newest space with the most up-to-date look."
Sôlt is one of those restaurants where you must try it all. Order a drink, enjoy an appetizer, and watch the mood of the restaurant change as your entree is being carefully stewarded in the kitchen. The colorful interior is laced with detail, down to the plush emerald green dining chairs and a pleasant view of the bar from all areas of the restaurant. Finish off the night with a delicious dessert suggested by the exemplary waitstaff, and Chef Tai might even come by your table to chat with you and thank you for visiting his restaurant. And if you're in the mood for just drinks, enjoy a seat outside on their beautiful patio under string lights, surrounded by greenery.
"It has been a trying year for many restaurants, including our own. We are so grateful that we received a chance to revive our old space from the ashes of Veritas Wine & Bistro that we proudly operated for the last 14 years," Chef Tai adds, "but with changing times and needs, we had to make adjustments, and I am glad we were able to do so. We are looking forward to serving Aggieland for many years to come and be the signature polished casual restaurant of the town."
Sôlt is located just off of University Drive and is open Monday through Saturday. Take advantage of their weekday promotions offered right now as well: kids eat free on Mondays, on Tuesdays they are offering spirit tasting flights, and select bottles of wine are 50% off on Wednesdays. In addition to the dining room, Sôlt is also open for curbside and delivery. Also not to miss is their first collaboration dinner on November 11— a five course dinner featuring sauces and spices from Pretty Thai.
A welcoming atmosphere, delicious food, and an elevated and intentional dining experience makes Sôlt an exceptional new addition to the College Station dining scene. Plan your next dinner out here, because as it is cleverly displayed on the wall inside the restaurant, "you can't live without Sôlt."
Sources:
Interview with Chef Tai Lee